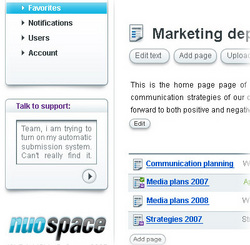 Wiki has revolutionized enterprise portals. And Nuospace goes further, being the first real implementation of the enterprise wiki specifically developed to satisfy the highly demanding needs of business users. We believe that Nuospace defines the new standard of enterprise portal solution for the web 2.0 era
Palo Alto, CA (PRWEB) October 9, 2007
BrightSide Software announces plans to launch Nuospace.com - a new enterprise portal solution.
Nuospace combines the efficiency of an enterprise wiki with significant document management capabilities to offer a single location for corporate documents and content. It is provided as a hosted solution based on the software-as-a-service model. The combination of wiki simplicity and 'on demand' availability makes Nuospace a convenient collaboration workspace with no upfront investment and a very short learning curve. Nuospace page templates cover most common enterprise portal uses such as wiki pages, document sharing, forums, blogs, and newsletters, etc. Beginning with the beta-release version, Nuospace will deliver the highest standards of quality, reliability and security required for business software.
Peter Anderson, Nuospace.com marketing director, explains that: "Wiki has revolutionized enterprise portals. And Nuospace goes further, being the first real implementation of the enterprise wiki specifically developed to satisfy the highly demanding needs of business users. We believe that Nuospace defines the new standard of enterprise portal solution for the web 2.0 era"
Visit the http://www.nuospace.com website to experience the Nuospace live demo. No registration is required. The Nuospace hosted solution will be available from November 15, 2007. A standalone version for intranet usage will be available in early 2008.
Other useful links:
"Inside Nuospace" Team Blog
Nuospace enterprise wiki screenshots
"Yet-another" enterprise portal solution?" article
About BrightSide Software
Nuospace is created by BrightSide Software Inc, a Palo Alto based company. BrightSide Software received seed funding in June 2007 to create Nuospace.com. The company mission is to improve enterprise information technologies by offering 'software-as-a-service' solutions that are specifically developed to meet business-level standards of quality, reliability and security.
Contacts: Peter Anderson, contacts @ nuospace.com
# # #