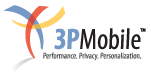 Boulder, CO (PRWEB) April 19, 2012
5o9®, Inc. (dba 3PMobile™) was identified by VDC Research as a startup with potentially disruptive and important technology within the mobile ecosystem. 3PMobile is the only company selected with a focus on the mobile Web. The company's first product, Choice™ is an enterprise mobile browser that helps organizations manage privacy and compliance in a BYOD environment, however, inclusion in the VDC FastForward report was based upon the much broader reaching impact of this 3-person startup's patented technology, Web standards based approach and mobile Web development tools.
"VDC's clients ask us to identify mobile startups with potentially disruptive and important technologies that can augment their existing capabilities and provide access to new revenue streams," said Eric Klein, Sr. Analyst with VDC Research. "After my first conversation with the 3PMobile team, it was apparent that the company had productized a differentiated and powerful enterprise-grade mobility solution that could help to solve many of the outstanding time-to-market and affordability issues not yet addressed by mobile applications and MEAP solutions."
The Choice™ mobile browser is fully customizable for each enterprise, including data selection, branding and encryption. All data formats and integration techniques use existing Web standards, making mobile Web initiatives fast and affordable for companies with limited or no mobile development resources.
When asked about the broader applicability of their technology, 3PMobile CEO Peter Cranstone said, "Our immediate focus is on enterprises with a mobile workforce, however our patents represent a significant opportunity for consumer Web service providers to differentiate themselves via privacy." When asked why this is important, Cranstone continued, "The current Do Not Track (DNT) initiative is nearing finalization and most US and European countries have pending privacy legislation. Giving people (and businesses) choice over how they manage their privacy is not only the right thing to do – it's good business. 3PMobile simplifies this process for everyone, using existing Web standards."
About 3PMobile:
3PMobile develops software that improves the mobile Web experience by delivering to enterprises, the data they need to effectively manage performance, privacy and personalization - the "Three P's" of a great mobile Web experience. The Choice™ enterprise mobile browser uses Web standards to deliver mobile user & device data to a Web service - data that enables the real-time management of enterprise privacy and compliance policies. The company's mission is to enable a great mobile Web experience by balancing the user's need for convenience, privacy and control with the enterprise's need for commerce and control.