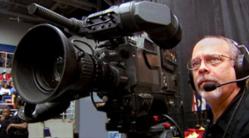 "36% of U.S. businesses over 100 employees already use YouTube for marketing purposes with YouTube adoption growing at 24% per year."
eMarketer, August 2012
Jacksonville, Florida (PRWEB) September 23, 2012
Enterprise Videos, LLC has partnered with Local One Page Marketing to package traffic and lead generation services into custom eVydeo™ as part of their full suite of video services. eVydeo™ will enhance a business's marketing campaign and is an extremely productive way to engage future customers and convert qualified visitors into repeat sales.
Neilson reports that 87% of marketers are now using video as their primary source of content. Google understands the impressive results video produces compared to other types of content and encourages people to upload and share their own videos on YouTube, the second largest search engine on the Internet.
But having a video on YouTube alone is not the answer. Enterprise Videos' eVydeo™ is a unique solution that will allow professionals from all areas to build highly targeted video presentations to speak to their audience. eVydeo™ can be emailed, played on the new iPhone 5, posted on YouTube, Facebook and other social media pages or even watched on a DVD.
Enterprise Videos' new media production, videography and digital editing solutions give business start ups and existing organizations the ability to showcase their company with an eVydeo™ while the customer is actively visiting their website. LOCAL One Page Marketing then takes the eVydeo™ and wraps an entire SEO model around it, making it dramatically more visible at a fraction of the cost of Google Ad Words.
No one can tour a company and see the services they offer in less than a minute, but you can with a WEB video. Organizations can now turn to Enterprise Videos to create effective multi-purpose programs with 24/7 visibility that can answer questions, show off their newest product and customize information the visitor sees. This encouraging them to take the next step and pick up the phone.
Established in June by award winning producer John Willman, Enterprise Videos provides videography, green screen production, digital video editing and graphics for WEB commercials, corporate profiles, marketing, training and product demonstrations. Enterprise Videos' associates are producers, editors, videographers, writers, artists and technicians who all work together like a co-op, encouraging and supporting each other's efforts. These professionals have worked for some of the most respected video production companies in the country. Mr. Willman explained that "providing WEB site eVydeo™ has tremendously enhanced our digital offerings by giving customers a powerful way to personalize and make their business stand out."
Nestled in the heart of Jacksonville's San Marco district, Enterprise Videos, LLC offers a unique, efficient approach to production, allowing companies the ability to quickly and easily create high quality video and rich social media content.
For more information eMail info(at)enterprisevideos(dot)com, visit: EnterpriseVideos.com or call toll-free (866) 733-8378.