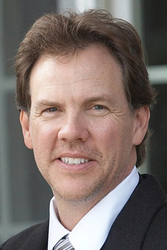 As Chair of the Entertainment Design program at Art Center I hope my passion and expertise will influence the next generation of talented designers so that they can realize their dreams.
Pasadena, CA (PRWEB) January 19, 2011
Proficient concept artist, designer and educator Tim Flattery has been appointed Chair of the Entertainment Design Department at Art Center College of Design, it was announced today by College Provost Fred Fehlau.
In making the announcement, Mr. Fehlau said, "Entertainment Design is usually understood to be how films come to look the way they do. But the field today is much greater, encompassing any project in which storytelling is important—themed environments, exhibitions, gaming, and learning institutions such as museums and libraries—all rely on creating visual narratives. As we create more opportunities for interdisciplinary practice, these storytelling skills are increasingly important to the College at large. With Tim's breadth of experience, we feel he is the perfect person to bring our Entertainment Design program into the future."
"I've worked in the entertainment industry for 24 years and have been fortunate enough to have realized my dreams," Mr. Flattery said. "As Chair of the Entertainment Design program at Art Center I hope my passion and expertise will influence the next generation of talented designers so that they, in turn, can realize their dreams."
Mr. Flattery is a multi-talented creative concept artist and designer with expertise in concept development, design and fabrication. In a career spanning more than two decades, he has worked on some of the biggest films for some of the most famous directors in the world. Among the number of highly anticipated projects he has worked on are Green Lantern, Real Steel, Creature from the Black Lagoon and Mission: Impossible IV. Previously, he has overseen the full-size construction of custom vehicles, which he designed for films such as the Fantasticar for Fantastic Four: Rise of the Silver Surfer, the Batmobile for Batman Forever, and the Amphibicopter and other vehicles for A.I. Artificial Intelligence. Additionally, he has raised the creative bar with acclaimed design work on award-winning and blockbuster films, including Terminator Salvation, The Incredible Hulk, Transformers, Pirates of the Caribbean: Dead Man's Chest, Spider-Man II, Saving Private Ryan, Men in Black and many, many others.
Beyond his career as a concept artist and illustrator in the film industry, Mr. Flattery has done creative work for Walt Disney Imagineering and Chimera Design in the area of theme parks and resorts. He has also done independent work for Entertainment Arts and the EA Games Label.
This announcement represents a homecoming of sorts for Mr. Flattery, who taught visual communication at Art Center to industrial design students in the early '90s. He received a Teacher of the Year award from the College in 1994.
Mr. Flattery graduated from College for Creative Studies with a bachelor's degree in Transportation Design.
Mr. Flattery joins Art Center following an extensive international search conducted by a committee of faculty, alumni, students and staff from both the Entertainment Design and Illustration departments. Ross LaManna, Chair of the undergraduate Film program at Art Center and head of the search committee, said, "Tim has contributed to the success of many of the biggest blockbusters in recent history with creative work that is breathtaking and inventive. He enjoys a stellar reputation in the industry and we're thrilled he's bringing his talent and enthusiasm to Art Center."
About Entertainment Design at Art Center
Located in Southern California just minutes from Hollywood and major motion picture studios, Art Center College of Design is a prime location for students aspiring to a career in the entertainment industry with classes often taught by talented and qualified instructors from nearby companies such as DreamWorks, Walt Disney Studios, Sony Pictures Imageworks, EA Games and Activision Blizzard.
While Entertainment Design is Art Center's newest program (it formerly began accepting students in Fall 2007), graduates from our industrial design and illustration departments have been leaders in the field for decades, including production designer Kathy Altieri (How to Train Your Dragon, Over the Hedge, The Prince of Egypt), vehicle designer Harald Belker (Battleship, TRON: Legacy, Iron Man and Iron Man 2, Minority Report), concept designer Ryan Church (Avatar, Transformers: Revenge of the Fallen, Star Wars Episode II and III), background painter William Cone (Up, Ratatouille, Cars), concept artist James Clyne (Cowboys & Aliens, Avatar, Star Trek), concept artist Mark Goerner (Battle Angel, X2: X-Men United, Minority Report), production designer Sean Hargreaves (Toy Story 2, The Lost World: Jurassic Park, Batman Forever,), storyboard artist Simon Ko (The Incredible Hulk), visual effects supervisor Kevin Mack (Percy Jackson & the Olympians, Big Fish, What Dreams May Come), legendary concept designer Syd Mead (Mission Impossible III, Blade Runner, Tron), lead conceptual artist Nick Pugh (The Chronicles of Narnia, Superman Returns, The Fast and the Furious: Tokyo Drift,), creature designer Neville Page (Green Lantern, Sucker Punch, TRON: Legacy, Avatar), concept artist Raj Rihal (The Avengers, Men in Black III, Thor, Red Alert 3, Guitar Hero 3), modeling artist Gary Schultz (WALL-E, Ratatouille, Cars), creative visual director Farzad Varahramyan (High Moon, Darkwatch, Jumanji, Alien vs. Predator) and concept artist Victoria Ying (Tangled, Frog Princess).
About Art Center College of Design
Founded in 1930 and located in Pasadena, California, Art Center College of Design is a global leader in art and design education. Art Center offers undergraduate and graduate degrees in a wide variety of art and design disciplines, as well as public programs for all ages and levels of experience. Renowned for its ties to industry and preparing students for professional practice, Art Center is the first design school to receive the United Nations' Non-Governmental Organization (NGO) status, providing opportunities for students to create design based solutions for humanitarian and non-profit agencies around the world. During the College's 80-year history, Art Center's alumni have had a profound impact on popular culture, the way we live, and important issues in our society.
###