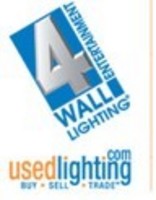 We're not only excited about the expanded space our new facility offers but also with our ability to now service an even greater portion of the East Coast's lighting rental and sales needs
New York, NY (PRWEB) September 20, 2008
4Wall Entertainment's New York offices are officially settled and open for business in their newest, more expansive location in Moonachie, New Jersey. Now the largest of the company's three locations, the new facility doubles their previous location's warehousing capabilities with over 75,000 square feet of space.
Over the past two years, 4Wall's New York operation has doubled inventory levels and the needs for increased in space were without question. With 8,000 square feet of office space also included in the new facility, 4Wall will also comfortably house staff and administrative personnel that ensure their consistent level of top-quality customer service.
The new building definitely takes full advantage of the increase in space. With 5500 square feet of designated show prep area, a 2600 square foot fabrication room and 3000 square foot climate-controlled classroom for product demos and manufacturer training, the facility makes everything that loads-out of the nine loading dock doors a more efficient process.
"We're not only excited about the expanded space our new facility offers but also with our ability to now service an even greater portion of the East Coast's lighting rental and sales needs," stated Michael Cannon, 4Wall Entertainment's CEO. "Our client base is continually expanding. While the increase in both inventory and warehousing capabilities meets our needs, our first priority is always making sure we maintain the highest level of service for all our clients. The new facility will not only meet service demands, but do so with the widest range of inventory possible on the East Coast."
Founded in 1999, 4Wall Entertainment is a leading national provider of entertainment lighting systems with offices in New York, Las Vegas and Phoenix. Staffed by lighting industry veterans, their services include rentals, sales, service, design, and labor for the lighting and production industry. 4Wall has become the industry standard for quality and customer service with special capabilities expanding into "green" design technologies. With the motto "Large Enough to Service, Small Enough to Care," 4Wall equipment and design provides customers with projects that are not only aesthetically spectacular but extremely reliable. To learn more about 4Wall products and services, please visit PRWeb Press Release Newswire or phone the location nearest you: Las Vegas (702-263-3858), New York (201-329-9878), and Phoenix (480-212-0140).
###