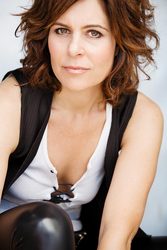 "I jumped at the opportunity to work with David", explained Niemi. "He came out to see Killer Joe [2007 LA Ovation Award Production] and given that we are both theatre rats, working together in a different medium was an awesome opportunity."
Los Angeles, CA (PRWEB) July 13, 2010
Los Angeles based actress Laura Niemi joins the cast of Trust directed by David Schwimmer and staring Clive Owen (Duplicity, Inside Man), Catherine Keener (Capote, 40-Year Old Virgin) and Tony Award winning actress Viola Davis.
Trust tells the story of a teenage girl targeted by an online sexual predator and is based on the screenplay by Andy Bellin and Rob Festinger. It was adapted for the stage earlier this year by Schwimmer (who also co-directed) and Bellin; receiving critical acclaim during its world premiere run at The Lookingglass Theatre in Chicago, where Schwimmer also stands as Artistic Director.
Niemi plays Susanna Weston, the loving wife of Glen (Chris Henry Coffe) and mother who is completely unaware of her husband's double life. Pivotal to the plotline, Niemi's portrayal gives us an eye awaking twist towards the end of the film.
"I jumped at the opportunity to work with David", explained Niemi. "He came out to see Killer Joe (2007 LA Ovation Award Production) and given that we are both theatre rats, working together in a different medium was an awesome opportunity."
Trust lands on the heels of a Hallmark movie Niemi just shot, Farewell, Mr. Kringle, staring Christine Taylor (The Brady Bunch Movie, Zoolander). This transition into film is very exciting for Niemi. In 2009 she made guest appearances in Criminal Minds (CBS), 90210 (CW), Private Practice (ABC), and The Mentalist (CBS) opposite Emmy nominated actor, Simon Baker.
An acclaimed theatre actor, Niemi is the Artistic Director of the multi-award winning Lost Angels Theatre Company (http://www.lostangelstheatre.com) in which she garnered several awards and nominations from LA Ovation, LA Weekly, LA Critics' and the Garland Awards. She has worked on various equity stages alongside such talent as Kathy Baker, William Friedkin, Tracy Letts and Amy Ryan. Niemi is repped by Hervey Grimes Talent Agency. For more information check out: http://www.aboutlauraniemi.com
###