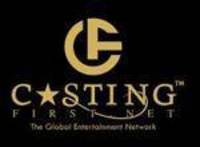 Castingfirst.net is intended to offers everyone an equal opportunity to interact with entertainment professionals from around the world
London, UK (PRWEB) August 4, 2009
"Castingfirst.net is intended to offers everyone an equal opportunity to interact with entertainment professionals from around the world," said Eric Krim Castingfirst.net co-founder. The site launched in 2007 and has quickly grown to become the leading services for entertainment professionals and was recently redesigned to better meet the need of it's members current and new, providing members the opportunity needed for the future of their career.
This Entertainment portal takes pride in showcasing great talents from around the world, it's the one stop center for film and music making.
Members can create their profile, boost their exposure by uploading their latest audio/video to the site, securing castings, gigs or crew positions, they've full access to Castingfirst.net features - Totally free of charge, when so many website charges their members. These exposure tools are designed to maximize members' online presence to the full. Castingfirst.net is also a social networking site for entertainment professionals, members can build a entertainment network and get connected, share projects and ideas with other professionals "The most important in this business is not what you know but who you know" said Eric Krim.
Anyone can enjoy visiting the site, with a great variety of musics and videos uploaded by talented members, it's the place to discover the next big thing.
###