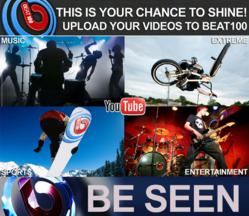 Upload videos to the BEAT100 video network, users will be put in front of thousands of new people
(PRWEB) October 12, 2012
BEAT100 is pleased to announce the imminent return of the entertainment video charts and the changes we are making to enhance member's experiences with the video network. BEAT100 have made uploading videos easier by allowing people to share embeded YouTube videos through BEAT100 video network and adding a new entertainment video chart which will offer cash prizes and wordwide exposure.
Whether users are a BMX rider, Snowboarder, Extreme Sportsman, Free runner, Skateboarder or anyone with any talent users will soon be able to upload videos and be in with a chance to a share of the cash prize pool. For BEAT00 users we can't wait to be able to share the most exciting videos on offer anywhere in the world.
The entertainment video chart gives everyone and anyone a chance to be seen, be heard and be rewarded and runs alongside the music charts every 14 days. Start uploading videos into the network today. Remember, Be Seen. Be Heard. Be Rewarded.