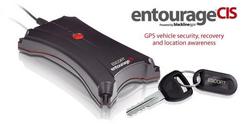 This artificial intelligence makes the PASSPORT 9500 series radar detectors the most accurate and intelligent detectors on the road. You drive, they learn. End of story
West Chester, OH (PRWEB) August 17, 2009
ESCORT Radar (ESCORTinc.com), maker of the world's best radar, laser and camera detectors, announced today the continued expansion of its product line with the release of Entourage. "The Entourage line of products provide state of the art GPS tracking capabilities and will allow our customers to keep track of the things that matter most to them" said Tim Coomer, ESCORT's Vice President of Marketing and Product Development. The product line is comprised of two types of products; portable and custom installed.
ESCORT Entourage PS
The Entourage PS (portable solution) GPS model is a compact hand-held device which can be placed in a car, motorcycle, piece of luggage, golf bag or in a child's backpack for example. The device incorporates an internal rechargeable battery, providing up to seven days of coverage, and is portable enough to go almost anywhere. Tamper-sensing and GPS based perimeter monitoring are also included. The Entourage PS comes complete with an AC charger and 12-volt adapter.
ESCORT Entourage CIS
The Entourage CIS (custom installed solution) GPS model is designed to be permanently installed in a vehicle and offers additional features such as always-on cellular communication, tamper-sensing capability and automated arming and disarming with its wireless key fob. Optional vehicle monitoring and recovery services are also available.
Both GPS models can be tracked through an interactive web-based interface which provides real time location, heading, speed and cellular signal strength for each unit.
Multiple devices can be set up under one account and customers can review the history of their device providing value for drivers who want to review a recent trip or, the concerned parent who wants to monitor their teenage drivers. A subscription is required for web-based services with plans starting as low as $14.95 per month.
"With Entourage, our customers will have a low cost, easy to use system for locating and keeping track of the things that are important to them," said John Larson, President and CEO of ESCORT. "We are extremely excited about this line of products and our ability to serve customers beyond our industry-leading radar, laser and camera detection products," he added.
ESCORT--the World's First Internet Ready, GPS-based Radar Detectors
ESCORT developed the world's first internet ready, GPS based radar detectors--the PASSPORT 9500ix windshield mount model and the PASSPORT 9500ci custom-installed version. Both models established a new technology standard by introducing patented features including AutoLearn™ artificial intelligence. AutoLearn™ uses GPS technology to automatically eliminate false alerts by indexing their exact location and frequency. "This artificial intelligence makes the PASSPORT 9500 series radar detectors the most accurate and intelligent detectors on the road. You drive, they learn. End of story," said Coomer.
Both the PASSPORT 9500ix and the 9500ci radar detectors address the single fastest growing threat drivers face today--the increasing numbers of fixed position speed and red light cameras. Both detectors meet this ever-increasing risk by incorporating the ESCORT Defender™ database, which identifies these threats well in advance. In addition, the Defender™ database includes the top speed traps throughout North America. The Defender™ database can be easily updated through the detector's USB-internet ready connector.
About ESCORT, Inc.
ESCORT Inc., holds 85 percent of the radar, laser and camera detector patents in the United States and has won more independent third-party tests and reviews than any other brand. ESCORT INC. manufactures products under the ESCORT, PASSPORT, SOLO, Vector and BELTRONICS brand names. ESCORT is headquartered in West Chester, Ohio with its principal manufacturing facility located in Mississauga, Ontario, Canada.
Editorial Contact:
Ron Gividen
513.870.8500
###