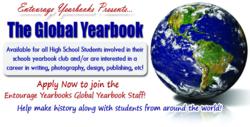 All involved students will gain valuable journalistic experience and a great project to add to their portfolio!
Princeton, NJ (PRWEB) November 17, 2011
Entourage Yearbooks is excited to announce the launch of The Global Yearbook Program; a new program focusing on bringing high school students from across the world together to produce a yearbook that is representative of a modern global perspective. The project is the first of its kind as Entourage Yearbooks is in a unique position to orchestrate it. Entourage works with customers on all seven continents, and so, has a wide scope of journalistic access.
Entourage Yearbooks is inviting students across the world to apply to The Global Yearbook Program. The students that are accepted into the program will be invited to submit one to four pages that will be included in an actual printed yearbook. Each student and school that participates will receive their own copy of the book to share and enjoy their contributions.
Student submissions will consider the questions: What is Yearbook Journalism and what is the relationship between Yearbook Journalism and Social Media? Through the exploration of these topics, Entourage Yearbooks hopes to produce a yearbook that captures an accurate snapshot of how students of the same age group across the globe perceive the world around them, and that promotes Yearbook Journalism as a journalistic arena of the highest caliber.
"As we work with schools and talented students from all over the world, we noticed how interesting the differences in student perspectives are. So we started the global yearbook program to showcase this talent and highlight different global views and lifestyles," said Entourage Yearbooks President Elias Jo. "These students are all journalists in their own geographies. The finished product will be a fascinating story of enormous sociological and journalistic value."
As of now, the program has only been open to students that are currently working with Entourage Yearbooks, but it is about to open up to all students worldwide. Interested students can apply to be part of the project by filling out an application on the Entourage Yearbooks website at http://www.entourageyearbooks.com/globalyearbookapplication.asp.
"Global Yearbook is a wonderful opportunity for high school students to be a part of a project that will add to their global perspective and culminate in a published work," said Jo. The involved students will have the opportunity to work with experts in design and journalism for ideas on creating content for their pages. "All involved students will gain valuable journalistic experience and a great project to add to their portfolio!"
The actual Global Yearbook book will be available for purchase both through the Entourage Yearbooks website and Amazon.com. You can reserve your copy by going to http://www.entourageyearbooks.com/globalyearbook.asp. The yearbook should be complete and ready for distribution by September 1st, 2012.
###