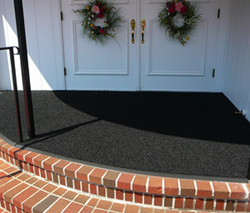 We needed a matting system for both indoor and outdoor use in custom sizes for purpose of preventing slip and fall as well as protecting our new carpet from extreme damage done by dirt, moisture and winter salt
Cleveland, OH (PRWEB) August 3, 2009
A new, custom installation of 3M™ Nomad™ indoor-outdoor entrance matting provided a slip resistant surface that also protects carpeting. The vinyl-looped construction scrapes dirt, salt and moisture, keeping shoes clean and dry.
Nancy Sanden of Brunner Funeral Home in Mentor, Ohio, approached Martinson-Nicholls to design the ultimate floor matting system for their facility and industry. The company's 3M Nomad floor matting system solved a major problem for Brunner. "We needed a matting system for both indoor and outdoor use in custom sizes for purpose of preventing slip and fall as well as protecting our new carpet from extreme damage done by dirt, moisture and winter salt," according to Nancy Sanden.
Sanden explained that funeral homes have tremendous traffic all at one time, meaning extreme wear and tear to all floor matting services. Brunner also used great amounts of salt in the winter months due to the dangers of potential slip and fall from ice and snow. Knowing these facts, Martinson-Nicholls, Inc. worked with Nancy using 3M Nomad matting 8100 and 8150 to deliver the ultimate system for their facility.
Outside, they installed a custom-cut 3M Nomad 8100, an unbacked matting, that captures up to 75% of moisture and salt due to 3M's unique structure and design.
Inside, Martinson-Nicholls utilized 3M's Nomad 8150 backed spaghetti matting to create well areas. The well area is created by removing a section of carpet in front of each door, cutting the Nomad to size, and laying it into this area. The entrance matting is held in place by a vinyl edging that easily snaps into a metal track Martinson-Nicholls installs. The floor mat is held in place and creates a perfect transition while allowing for easy mat removal and cleaning.
According to Nancy Sanden, "Our floors and carpets are protected as well as our customers; Martinson-Nicholls created a unique entrance matting system that should be the standard throughout our industry."
Nomad is available in black, gray or brown, and in large sizes that Martinson-Nicholls can cut into custom shapes. The company's custom installation process can produce a floor matting system for the unique requirements of any business.
About Martinson-Nicholls:
Martinson-Nicholls, has established itself as a leader in custom anti-slip tap and mats, heated floor mats, and safety products for more than 25 years.
Martinson-Nicholls provides the customer with the exact size matting needed--small, large, standard, nonstandard, special shapes and logos. Custom installations are also a specialty of the company.
The company has added a new blog on safety and green-friendly products, with some entertaining and informative stories on industrial history in Cleveland and the White Motor Company family.
Anti-slip safety tapes and treads are available in various sizes and textures from hand cut or die cut pieces to full rolls and special shapes. For more information, please visit http://www.floormat.com.
Contact:
Dan Ruminski
Martinson-Nicholls
800-876-1312
http://www.floormat.com/industrial/nomad-scraper.html
###