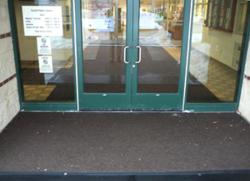 We are seeing less and less salt enter our building. The mat looks good and is indeed extremely functional.
Cleveland, OH (Vocus/PRWEB) March 01, 2011
A combination of custom entrance matting and scraper mats designed and installed by Martinson-Nicholls provided slip resistance and protection from salt and water for the Euclid Public Library. Located just east of Cleveland, the library has a 27-foot long vestibule. In winter, salt used to melt snow and ice was being tracked into the building causing damage to floors and carpet. Traditional floor mats did not solve the problem.
"Our library has over 1600 visitors a day", quotes Donna Perdzock, Director. "and we want our patrons to enter the building in a safe and comfortable way."
Dan Ruminski, owner of Martinson-Nicholls, reviewed the entrance way with Adam Sheck, library facility manager, and suggested a permanent, safe, functional floor matting system to solve the problems. Ruminski created a large well area by removing a wide walkway of the clay tile and dropped Andersen Waterhog Eco Rolled Goods matting into the well. The thick Eco matting is made from recycled plastic bottles, is extremely durable, and features an aggressive, textured surface to catch salt and dry shoes. By embedding the matting into a well area, the 11' 4" by 27' matting was secured, eliminating any worry about floor mats moving.
Martinson-Nicholls also advised the library that 3M Nomad 8100 scraper matting would be ideal outside the front entrance. The 3M product is designed to capture dirt, snow and salt before it enters the building, and was recommended as the first mat in the system. A custom size 3M Nomad 8100 mat was designed to fit perfectly into the library entrance.
According to Adam Sheck, the results have been dramatic. "We are seeing less and less salt enter our building. The mat looks good and is indeed extremely functional."
Euclid Public Library wanted to ensure the safety of its patrons. The custom floor matting system from Martinson-Nicholls provides both safe footing and protection for the library's floors and carpets.
About Martinson-Nicholls
Martinson-Nicholls has established itself as a leader in custom anti-slip tape, eco-friendly floor, and heated floor mats for more than 25 years.
Martinson-Nicholls provides the customer with the exact size matting needed--small, large, standard, nonstandard, special shapes and logos. Custom installations are also a specialty of the company.
The company is sponsoring a new blog on Cleveland history, with entertaining and informative stories on Cleveland's key role in industrial history.
Anti-slip safety tapes and treads are available in various sizes and textures from hand cut or die cut pieces to full rolls and special shapes. For more information, please visit http://www.floormat.com.
# # #