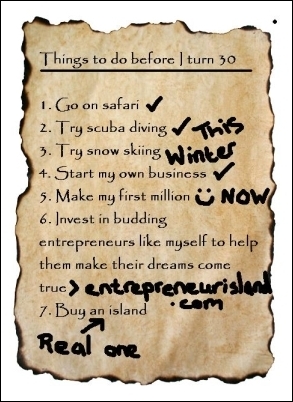 Millions of people share my dream to become an entrepreneur and to raise my first million by the time I turn 30. With experience in managing advertising campaigns across international magazines and on the web, I knew this site would be successful
London (PRWEB) August 22, 2006 –-
Entrepreneur Island (http://www.entrepreneurisland.com)] is both a contest and a way for youth to get advertising to back their business idea. Kari Peters started the site so she could raise capital for her business ideas and provide support to other budding business people. She will also use some of the money to buy a real island and turn it into a members-only resort for the 100 lucky Web site members. All this for a sign-up fee of only $50.
The site is based on a simple premise: Entrepreneur Island has 100 spaces available for business barons with $50 and good ideas. Once 100 have joined, the race to use the page for advertising and to raise $2 million capital is on. Half of the money raised by each business person will go toward starting their business and Peters will keep half. Along the way, there are three treasures – two $2,500 and one $5,000. One will be released when the 100th member joins. One will be awarded in an online poll of Entrepreneur Island visitors. The last is hidden on Cyber I-land and available to the first member of the public who cracks the clues contained in the site's weekly newsletter.
The combination of motivated business barons competing for advertising space and members of the general public poking around, looking for clues in their own treasure hunt is designed to create buzz around the site. And buzz means more money for everyone.
"I started Entrepreneur Island because I have a dream to resign from my job and to join the ranks of entrepreneurs who work long hours with sheer passion because they love what they do," Peters said. To see Peters describe her dream, visit http://www.youtube.com/watch?v=6IHSrBIWAik
One day, while home sick, the idea for the Web site took shape in Peters' mind – what if, by providing advertising space for people with business ideas, everyone could work together to make their dreams come true? Perhaps, as a group, they could compete and achieve their goals. The entry fee is small compared to the potential for publicity and the opportunity to raise seed capital to start a business.
"Millions of people share my dream to become an entrepreneur and to raise my first million by the time I turn 30. With experience in managing advertising campaigns across international magazines and on the web, I knew this site would be successful," Peters said.
Membership is available to Entrepreneur Island at three levels: baron, merchant, and pirate. Barons are the budding business people at the heart of the site. Each one who joins will be outfit with business cards and a Web site set up to securely to receive online payments. They'll receive tips to help them manage during the challenge and to help them learn about the various aspects of starting a business. If they meet the collective goal of $2 million, they'll also receive two weeks' access each year to a real island Peters is purchasing. "Even though there's an incentive to compete," said Peters, "Everyone still wins in the end."
Merchants can purchase advertising space on the Web site and back a business idea they want to support. Pirates are members of the general public involved in the search for treasure.
Entrepreneur Island may just be the incubator for the next Richard Branson. To find more details about the site and advertising opportunities, visit http://www.entrepreneurisland.com.
Contact
Kari Peters
+44 (0)7910 33 29 82
###