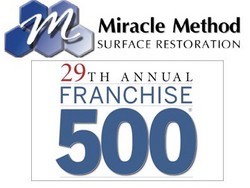 Individual franchises' double-digit sales growth
Colorado Springs, CO (PRWEB) January 10, 2008
Colorado Springs based Miracle Method Surface Restoration was ranked Number 188 in Entrepreneur Magazine's Franchise 500 list published in their January 2008 issue. The nation's largest bathtub, tile and countertop surface restoration franchisor, Miracle Method leaped over nearly 100 other franchise opportunities from its 2007 Franchise 500 ranking of 297.
Chuck Pistor, Miracle Method's President, attributes Entrepreneur's recognition as one of the best franchises to the company's comprehensive training, professional marketing and technical support programs. "It's really simple...if the franchisees are successful, then the network is successful," said Pistor.
According to Entrepreneur Magazine, all companies, regardless of size, are judged by the same criteria: objective, quantifiable measures of a franchise operation. The most important factors include financial strength and stability, growth rate and size of the system. The magazine also considers the number of years in business and length of time franchising, startup costs, litigation, and percentage of terminations.
Entrepreneur also ranked Miracle Method as Number 1 in the surface restoration category and Number 41 in their list of Top 100 Home Based Franchises. "While a number of our franchisees start out as a home based business, they soon move up to having a showroom and shop," says Pistor. "Our goal is to help our franchisees turn what is one of the best home based businesses into a much larger, more profitable small business opportunity. We really think we can break into the Top 100 Franchises!"
Pistor has seen annual gross sales increase dramatically from $6,000,000 to over $25,000,000 in the last eight years. "Individual franchises' double-digit sales growth," says Pistor "is due to the growing number of homeowners, hotels and property managers using surface restoration for more cost effective bathroom makeovers and kitchen remodeling. It's a great alternative to the removal and replacement of bathtubs, tile surrounds and countertops."
Miracle Method is set apart in the industry with the use of their proprietary bonding agent, MM-4. Non-acid, MM-4 molecularly bonds the old and new surfaces together, ensuring quality and durability and eliminating the need for dangerous, corrosive etching acids often used by other refinishers. Considered a trade secret, MM-4, provides a competitive advantage and is available only to Miracle Method franchises.
The outlook for the surface restoration industry is very bright and the combination of having the best technology, the best-trained craftsmen, and a comprehensive marketing plan has Miracle Method continuing to lead the field. To see pictures of refinished bathroom fixtures and kitchen countertops or to learn more about this franchise opportunity, visit Miracle Method's web site at http://www.miraclemethod.com , or call 1-800-444-8827.
###