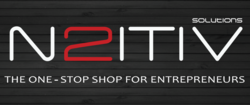 Don't be confused between failure and quitting as they are polar opposites because the only way you can fail is to quit. To entrepreneurs, Quit is a four-letter word.
New York, New York (PRWEB) December 19, 2012
Gary O'Neil from the quick rising entrepreneur's blog, N2ITIV Solutions advises aspiring entrepreneurs through his newest video that being an entrepreneur cannot be taught by a professor or learned in a classroom but must be experienced first-hand. O'Neil believes that college students who aspire to be entrepreneurs tend to get fooled into thinking that their degrees in Marketing, Masters in Business Administration, and the like are sufficient enough to prepare them to enter the world of an entrepreneur.
O'Neil points out, "There are degrees that you can acquire for most professions, however a degree in entrepreneurialism is not one of them. That only comes from jumping in the game, quite often with your eyes closed, and consistently failing your way forward to succeed."
This advice comes as no surprise as O'Neil's business partner, MJ Gottlieb has written a book (literally) on how to learn from the failure of others. In fact, an entire section of the N2ITIV Solutions website is dedicated to what entrepreneurs should not do when starting a business.
O'Neil warns anyone expecting to walk into the entrepreneurial world hitting one home run after another to think very carefully before taking the leap.
"It really is about taking a few steps forward, then a step back, then another three forward then two back, until you finally get to the point where you eventually are walking forward more and back peddling less."
O'Neil says those looking to start a business need to have entrepreneur's grit, an acronym he used for Get Results with Intensity and Toughness, something entrepreneurs get from acquiring thick skin, which is gained from only one thing, failure and there is no way for people to be taught how to experience the humility of losing until they win. He is also quick to point out that after losing their very first business, both he and Gottlieb got jobs mopping floors and cleaning toilets until they eventually created their next venture.
O'Neil adds, "The funny thing was, it didn't suddenly get better the second time around. Bigger business often meant bigger challenges, especially when it comes to growing too fast. There was many a time that our workload got so heavy that we literally slept under the desks in our warehouse during shipping season. There is no class given in college which teaches you that one."
O'Neil and Gottlieb try to tell their story to many aspiring entrepreneurs to make sure they have a realistic mentality when entering their journeys as entrepreneurs. O'neil adds, "Don't be confused between failure and quitting as they are polar opposites because the only way you can fail is to quit. To entrepreneurs, Quit is a four-letter word."
O'Neil and Gottlieb had to learn the hard way like everyone else. O'Neil adds, "The second you get complacent, you lose what you have. An entrepreneur needs to understand that you are on a lifelong journey and there is no given destination. The moment you think you have reached the top, you realize how much more there is to learn." Gottlieb is quick to point this out in There Is No Such Thing As An Expert, which has become a very popular post on their blog.
O'Neil uses several examples of well-known entrepreneurs and brands who have achieved success only through failure. He believes that many of the 'Internet –Phenoms' who have achieved instant success can jade the perspective of those who are looking into starting a business. He advises entrepreneurs, that whatever it is they choose, be really good, get really or get out before too much damage is done.
O'Neil adds, "Many aspiring entrepreneurs are all over the place. They try one thing and if doesn't work, it's on to the next thing. That is the exact opposite of what an entrepreneur should do. Pick one thing and put extreme work into it and make that your focal point. The last thing you want to be is the jack of all trades as we all know how that ends up."
O'Neil clarifies that this his words are by no means meant to scare off the bright eyed entrepreneurs of our next generation, but rather prefers that they may be better prepared from the start by taking off the rose-colored glasses and giving his honest perspective to help.
"To clarify, being an entrepreneur is one of my greatest joys and there is nothing I would rather do, and nothing I am more proud of professionally. In hindsight, I would have preferred to be told what I was getting into as it would have made things much easier to get through, which is why I am trying to pass along that knowledge the best I can to those are about to begin!"
N2ITIV Solutions, founded by MJ Gottlieb and Gary O'Neil, is a strategic consulting firm specializing in the implementation of creative business strategies to help aspiring entrepreneurs and small businesses increase their brand awareness and monetize their businesses online.
For more information, please visit http://www.n2itivsolutions.com