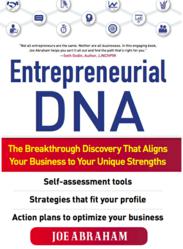 Joe is the next generation version of Michael Gerber. His work is undoubtedly going to change the way entrepreneurs run their companies, build strategy and connect with each other.
Chicago, IL (Vocus/PRWEB) March 17, 2011
Entrepreneurial DNA is the book that promises to disrupt the traditional view of entrepreneurship. The book dispels the myth that all entrepreneurs, all business owners are the same.
"For centuries, entrepreneurs have been put in one small box. We've been expected to run our companies, lead our teams and build relationships with other entrepreneurs as though we are clones of each other. The fact is, we are not the same. Entrepreneurial DNA proves that once and for all", says serial entrepreneur and author Joe Abraham.
Abraham's book introduces readers to the four distinct characters of entrepreneurial DNA. Identified as Builder, Opportunist, Specialist and Innovator, the BOSI DNA format enables business owners to discover their unique entrepreneurial profile. Based on this profile, the reader learns how to build and optimize their business plan, marketing systems, company operations, HR strategy and personal life around that unique profile.
*****The book, Entrepreneurial DNA helps readers create business plans that best leverage their strengths.******
Designed to help business owners understand how they operate, the core of the book is the BOSI Test. The test is an assessment that identifies one's Entrepreneurial Profile (also known as the BOSI Profile). Says Eric Plantenberg, CEO of Madison WI based Freedom Personal Development, "I think of it as the Myers Briggs test for entrepreneurs that unlocks game-changing strategy. Joe is the next generation version of Michael Gerber. His work is undoubtedly going to change the way entrepreneurs run their companies, build strategy and connect with each other."
After the BOSI Test, Entrepreneurial DNA's following chapters guide readers through a Discover, Design & Deploy process. After Discovering the strengths, weaknesses and predispositions of their BOSI Profile, they access best practices suited for that profile. A strategic planning process included in the book allows the reader to optimize their company operations to their strengths and weaknesses. Having designed their new optimized business plan, readers are given strategies on how to Deploy that plan into the marketplace for breakthrough results.
****Entrepreneurial DNA establishes the foundation for the future of professional social networking.*****
Built on the foundation of the book Entrepreneurial DNA is a social network and online community for entrepreneurs scheduled for release soon after the book is available in stores. Joe Abraham says, "The BOSI community is a mobile platform built to transform the way entrepreneurs network, collaborate and learn. Your entire experience from how we connect you with other entrepreneurs and resources - to the content we feature to you is tied to your Entrepreneurial DNA and other proprietary filters."
With key functionality such as the ability to take the online BOSI Test, create a company profile, collaborate with like-minded peers and access customized tools and resources, this application is unique. "We're not here to compete against the big boys like Facebook and LinkedIn. As a matter of fact, we've integrated with their APIs to give entrepreneurs who use Facebook and LinkedIn tools they really need to move their businesses forward", reports Mr. Abraham.
BOSI, BOSI DNA, Entrepreneurial DNA are either registered trademarks or trademarks applied for and pending of the company in the United States and/or other countries.
Entrepreneurial DNA is scheduled for release on April 15th, 2011 and is available for pre-order at major online retailers like Amazon and Barnes and Noble. For additional information on the book and locations designated for it's release, contact Joe Abraham.
For more information on Entrepreneurial DNA:
http://joeabraham.com/the-book/
For more information, press only:
Joe Abraham, 877.264.2674, press(at)bosidna(dot)com
###