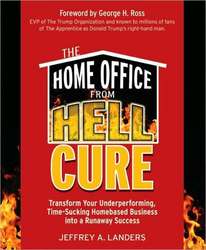 The best thing someone can do to get their business moving in the right direction is to simply start doing, but often entrepreneurs don't know what to do first
New York (PRWEB) March 19, 2008
Small-business expert Jeffrey A. Landers says his new book will give home-based entrepreneurs a 100-day, step-by-step formula to jump-start their businesses.
The book, "The Home Office From Hell Cure: Transform Your Underperforming, Time-Sucking Home-Based Business into A Runaway Success," will assist home-based companies in a myriad of ways, Landers explained.
According to the Small Business Administration, there are more than 13 million home-based businesses in the United States and many of them are not living up to their true potential. Home-based entrepreneurs have special challenges - they often have a blurred division between home and work life which can negatively impact their productivity and relationships; they may struggle to figure out how to get the word out about their business; they may miss important opportunities to get "out there" and network; and they may come up against the persistent belief that home-based companies are not as "real," as competent or as serious as their larger, office building-based competitors.
Still, home-based businesses represent 53% of all firms in the United States and they are here to stay. This means they have to work harder to meet these challenges.
"I wrote 'The Home Office From Hell Cure' (TheHomeOfficeFromHellCure.com) for entrepreneurs who dreamed the big dream of starting their own business, went for it and then, found out the reality was nothing like the fantasy," says Mr. Landers, "Reading this book can help them be more productive, have more leisure time, make more money and finally have the business they envisioned back when they were working in someone else's cubicle."
The key for Landers is getting home-based entrepreneurs to put away their dusty business plans and their run-of-the-mill, self-help business books and start implementing the easy and manageable daily tasks outlined in the book that will quickly turn these entrepreneurial daydreams into reality. "The Home Office From Hell Cure," with Foreword by George H. Ross, Donald Trump's right hand man and co-star of The Apprentice, provides the defibrillator that home-based entrepreneurs need to jump-start their business and bring it back to life in just 100 days.
"The best thing someone can do to get their business moving in the right direction is to simply start doing, but often entrepreneurs don't know what to do first," says Mr. Landers. "This book leaves no guess work. If they just follow my step-by-step plan every day, they'll have a much better business."
About the Author
Jeffrey A. Landers has more than three decades of business experience. He is a serial entrepreneur who has founded five companies and has been advising small businesses since 1988. His company, Home Office Success, Inc., has helped thousands of home-based businesses become more professional, more productive, and more profitable.
For more information about "The Home Office From Hell Cure" book and other tools and resources specifically designed to provide a formula for success for home-based entrepreneurs, go to HomeOfficeSuccess.com.
Contact:
Jeffrey A. Landers
Home Office Success, Inc.
212. 867. 1888
###