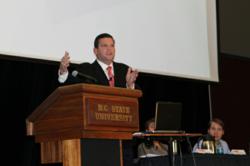 I always looks forward to meeting bright young people when I speak at N.C. State.
(PRWEB) November 07, 2012
National Agents Alliance President and CEO Andy Albright will speak during a student network meeting at the Entrepreneurship Initiative's "Garage" at 6 p.m. Thursday evening on the campus of North Carolina State University in Raleigh, N.C.
Albright, a 1986 N.C. State graduate, coaches students at his alma mater annually and is a member of the Entrepreneurship Initiative program's advisory board. Thursday's "fireside chat" will be the first of two speaking appearances by Albright at the Raleigh campus in the next five days. Albright will be a featured guest speaker on Monday, Nov. 12 at the N.C. State EI Entrepreneurs Lecture Series at the McKimmon Center at 3 p.m. The event will serve as the official kickoff for the Triangle Entrepreneurship Week.
In addition to Albright, the event will feature Grant Williard (founder of JouleBug), Jesse Lipson (VP, GM of Data Sharing at Citrix Systems, Inc.) and Gerard J. Hall (Founder, President and CEO of SMT). The event is free and open to the public. A networking reception will be held immediately following the lecture. The Entrepreneurs Lecture Series is designed to showcase outstanding innovation and entrepreneurship among NC State alumni and partners.
Dr. Tom Miller, director of the Entrepreneurship Initiative, said Albright's previous appearances have been wildly popular with EI students. He said Albright's willingness to give of his time and energy is incredibly valuable to students at N.C. State.
"There's a lot of excitement building among the Entrepreneurship Initiative Student Network about Andy's visit tomorrow evening," Miller said. "The students who have already met him are sharing with their fellow students that Andy is an awesome motivational speaker and a person who is dedicated to helping the next generation of entrepreneurs reach their full potential. I think we'll have a packed house!"
Through the EI, individual entrepreneurial projects and programs throughout the university unite to provide students with top-tier resources and opportunities. The Entrepreneurship Initiative (EI) at NC State encourages multi-disciplinary participation on every level – faculty, staff, industry and outreach partners, and most importantly, students. The EI was formed in July 2008 in response to the Chancellor's call to "develop an educated and entrepreneurial work force." By organizing and energizing its efforts through the EI, NC State will provide a comprehensive springboard for ideas, projects, and partnerships. By leveraging its core strengths in science, engineering, and technology, NC State will develop entrepreneurial solutions to society's current problems and future needs.
Albright said he always looks forward to meeting bright young people when he speaks at N.C. State.
"I love N.C. State and I believe in the opportunity the EI program provides for students that have big ideas and dreams," Albright said. "It's very cool to think that the students I'm working with could be the next Steve Jobs or Bill Gates in the future. I'm honored to give back to my university by mentoring students and I can't wait to speak on Thursday."
Albright is the author of The 8 Steps to Success and Millionaire Maker Manual. Albright is involved with numerous charities and organizations. He is a loyal follower of Wolfpack athletics and the Carolina Hurricanes.
National Agents Alliance is arguably the country's largest and most successful insurance marketing organization. Albright, who co-founded NAA in 2002, has appeared in regional North Carolina magazines and newspapers, and his company NAA was selected from a pool of 35,000 area businesses as the North Carolina Triad's Fastest Growing Company by Greensboro's Triad Business Journal in 2007. He was named to the Triad's 2011 Movers & Shakers list by Business Leader magazine, and appears on several national radio shows annually.
Albright resides in his childhood home on 43 acres of beautiful countryside near Burlington, N.C. with his wife, Jane and two children, Haleigh (17) and Spencer (14). The Albrights enjoy traveling, attending sporting events, concerts and watching movies together.