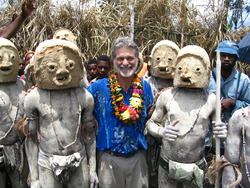 Best Universities - Master's Category
Springfield, MA (Vocus) September 24, 2008
The Western New England College Law and Business Center for Advancing Entrepreneurship will host the third annual interdisciplinary conference titled "Entrepreneurship in a Global Economy" on Friday, October 17 from 8:30 a.m. until 4:15 p.m. in the Blake Law Center.
The event is designed to bring together experts from a wide variety of fields and put them in a setting where they can talk to and learn from each other about the challenges facing existing small businesses and start-ups. "The conference is an opportunity to bring together practitioners, public policy makers, and academics to create change and impact the field of entrepreneurship with reality based discussion," said Aimee Griffin Munnings, director of the Law and Business Center.
The conference luncheon will feature a keynote address by Dean Cycon, owner of Dean's Beans Organic Coffee, a $3 million coffee roasting operation based in Orange, MA. Cycon is a leader of the American Fair Trade Coffee Movement. He has been a legal advocate and activist for indigenous people for more than 30 years, developing new business models founded on respect, ethics, and justice.
The conference will also feature four panel discussions on the topics of environmental justice; globalization, immigration, and effects on entrepreneurship; finance and entrepreneurship; and political outcomes and entrepreneurial policy. Panelists include experts from government, academia, and the nonprofit sector drawn from across the country.
Advance registration for the event is $50 and includes lunch and refreshments. To register or for more information, contact the Law and Business Center at 413-796-2030 or online at http://www.law.wnec.edu/lawandbusiness.
The Western New England College Law and Business Center for Advancing Entrepreneurship was established to provide graduate business and law students with an opportunity to offer practical consultation to entrepreneurs starting new or building existing small businesses in the community. The Center strengthens current alliances within the community by using the combined resources of the College's School of Business and School of Law to foster new business development. For more information about the Center, its programs and services, visit http://www.law.wnec.edu/lawandbusiness.
Western New England College is a private, independent, coeducational institution founded in 1919. Located on an attractive 215-acre suburban campus in Springfield, Massachusetts, the College serves approximately 4,000 students, including 2,500 full-time undergraduate students, on its main campus and at four sites throughout the Commonwealth. Undergraduate and graduate programs are offered through the College's Schools of Arts and Sciences, Business, Engineering, and Law. In its annual "America's Best Colleges" ranking, U.S.News & World Report lists Western New England College among the North Region's "Best Universities - Master's Category," those which provide a full range of bachelor's and master's programs.
Editor's note: All of the College's news releases are available online at http://www.wnec.edu/news.
FOR FURTHER INFORMATION, CONTACT:
David Stawasz at 413-796-2026 (office) or 413-214-8001 (cell) or
Stephen Roulier at 413-782-1520 (office) or 413-563-2704 (cell) or
Barbara Campanella at 413-782-1630 (office) or 413-237-5435 (cell)
# # #