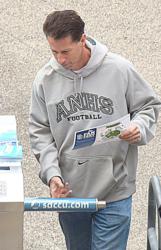 "The Turnstile AdSleeves have provided a powerful tactile element to our partner's investment at Petco Park." Tyler Epp, Vice President Corporate Partnership, San Diego Padres
Winter Park, Florida (PRWEB) April 05, 2012
Entry Media, Inc. has announced that they have partnered with the San Diego Padres to add their multi-patented Turnstile AdSleeve Armcovers to Petco Park. The sponsor is The San Diego County Credit Union.
Entry Media, Inc. is the originator of Turnstile Advertising with Turnstile AdSleeve Armcovers. This medium that allows businesses to reach and physically touch their targeted audience at the entry points to high traffic locations. In sports venues, this has been shown to be an area where fans are very excited and highly receptive to brand messaging.
Each Turnstile AdSleeve unit is hand-machined in the U.S. using only the highest quality materials. Customers are exposed to the advertisements both visually and physically as they enter a facility. Market studies have shown that Turnstile AdSleeve Armcovers have the #1 recall of any facility signage – 66.7% unaided advertiser recall.
Tyler Epp, Vice President Corporate Partnership at the San Diego Padres stated - "The Turnstile AdSleeves have provided a powerful tactile element to our partner's investment at Petco Park."
Martin Hering, President and Founder of Entry Media and Out-Of-Home Advertising industry veteran states, "We are pleased to partner with the San Diego Padres in bringing the Turnstile AdSleeve medium to the entry points to Petco Park. Their client will now be able to effectively brand their message exclusively at each entry gate at Petco Park in a way that is subtle yet very powerful."
Entry Media's innovative Turnstile AdSleeve units are currently in high traffic locations throughout the U.S., Canada, Europe and Brazil. These include Citi Field, home of the New York Mets, Fenway Park, home of the Boston Red Sox, Soldier Field, home of the Chicago Bears, Reliant Stadium, home of the Houston Texans, the New York City Subway System and the Sao Paulo Brazil Rail System. Advertisers utilizing the Turnstile AdSleeve Armcovers include Chase Bank, Ford, Coca-Cola, Comcast and Cole Hahn.
Deals are pending for the Turnstile AdSleeve Armcovers in over 500 stadiums, arenas, fairs, amusement parks and mass transit centers throughout the United States and internationally.
About Entry Media
For over 18 years Entry Media has been specializing in helping companies to stand out with in the ever increasing cluttered market place. Turnstile Advertising with Turnstile AdSleeve Armcovers is a proven effective advertising vehicle that adds a valuable tactile element to advertising campaigns. Studies have shown an increase in brand retention of up to 200% by adding a second human sense to an advertising campaign. For more information contact Entry Media at http://www.EntryMedia.com and 407-678-4446.