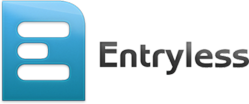 By using Entryless, business owners can reduce their workflows and ensure that their bills will be paid on time. Entryless may also save businesses money, by improving accuracy and eliminating the costs associated with human error
Menlo Park, CA & Barcelona, Spain (PRWEB) May 03, 2013
Entryless complements a wide range of cloud-based accounting software by letting accountants import any style or type of bill into their systems accurately and efficiently. The objective is to significantly reduce operation and overhead costs by automating the accounts payable function.
The Entryless platform automates the process of collecting and managing incoming bills for businesses. It starts with uploading chart of accounts to Entryless as CSV or Excel files or connect the online suite to existing Xero, Quickbooks or Freshbooks accounts. Entryless performs a same-day processing for electronic and paper bills and provides with information on the status of all invoices.
According to GetApp, by transitioning to Entryless, businesses can save money and reduce accounting errors. The cost to use Entryless being significantly less than the costs associated with employing a staff to run an in-house accounts payable department.
Entryless achieved the following ratings:
Overall: 9/10
Ease of use: 4/5
Features 5/5
Value 4/5
Ease of deployment 5/5
"By using Entryless, business owners can reduce their workflows and ensure that their bills will be paid on time. Entryless may also save businesses money, by improving accuracy and eliminating the costs associated with human error." said the GetApp reviewer.
To read the full review on GetApp visit:
http://www.getapp.com/blog/entryless-review/
To test drive and deploy Entryless for free, please visit:
http://www.getapp.com/entryless-application
About Entryless
Entryless Accounts Payable as a Service (APasS), founded by Mike Galarza, frees up staff resources by allowing companies to never type their bills again into accounting systems, by managing and seeing all the accounts payable online, and syncing AP data to cloud or desktop accounting systems. Effectively replacing a process that is manual and prone to errors, nurturing vendor relations and increasing efficiency. Entryless is based in Menlo Park, California.
About GetApp
GetApp is the largest independent online marketplace that helps small to mid-sized businesses and startups discover, evaluate and manage the perfect cloud business apps for their needs. Its mission is to support millions of users in their "best app" research with comprehensive directories, interactive search tools, side-by-side comparison tables, user reviews and app evaluation resources.
In addition, GetApp serves as a global online marketing channel for thousands of cloud business application developers. GetApp operates primarily in North America and the U.K. It is privately owned and backed by Nauta Capital.