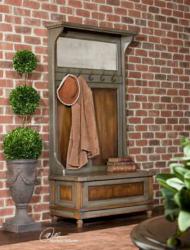 Having a shelf, a hook, and a cubby for every member of the family - especially in a cooler climate - is a great way to streamline storage during the winter season.
(PRWEB) June 21, 2013
HomeThangs.com – the Online Home Improvement Store has made their goal to deliver the right product to the consumer. With that in mind, shopping and home design tips, as well as special product selections are being introduced.
It's hard to keep a home clean, as anyone who has to find a way to do it knows. But as difficult and oftentimes unrewarding as cleaning can be, it isn't impossible, and as with so many things, an ounce of prevention is worth a pound of cure. Practically speaking, that means targeting problem areas and furnishing them intelligently to prevent messes from accumulating in the first place. To that end, HomeThangs.com has introduced a guide to organizing one of the biggest junk-magnets in the home: the entryway or mudroom.
Young or old, neat or messy, during any season of the year, it seems that, when walking through the front door after a long day, everyone shares the same instinct: to set down heavy items and remove uncomfortable clothes. Year round, that means piled mail, keys, and newspapers, while winter months offer the double trouble of damp coats, muddy boots, gloves, scarves, and umbrellas. Having a place to put them, even if it's as simple as hooks and shelves attached directly to the wall of the mudroom, is a good way to keep piles of coats from getting out of control.
Having a shelf, a hook, and a cubby for every member of the family – especially in a cooler climate – is a great way to streamline storage during the winter season. If there's enough space, though, it doesn't hurt to cozy up a mudroom or entryway with a little seating. These can either be built in or purchased as a single piece of furniture, and create a nice space not just to stow winter clothes, but to sit and remove winter boots. Some benches even double as storage where winter coats can be stowed away in the off season.
A key hook by the front door or the exit of the mudroom, with one hook for each member of the family, is a great way to prevent keys being misplaced and forgetful family members from being locked out. Key hooks with built in white boards or blackboards are especially nice, as they create a convenient place to leave concise messages the whole family is sure to see.
Similarly, a coat hook with built in mirrors are nice for those who rush in and out of the house every morning. A smaller one is perfect for hats and scarves, and offers the perfect opportunity to one's appearance on the way out the door.
Adding a narrow accent table or console table in an entryway or mudroom is an excellent way to keep mail in a single, obvious, relatively tidy place. A slim table won't take up much space, even in a tight hallway, and adding dedicated mail sorter can make things even neater. Having a mail table will keep mail from piling up elsewhere in the house and – theoretically – from being set down in a strange place and forgotten.
Mudrooms are typically at least partially separated from the rest of the home, but entryways often aren't, which should be taken into consideration. Now, that doesn't mean that many of these features don't still apply; rather, that it might be worth changing up the way they look. For example, instead of a bench or window seat style seating, look for a simple, small sofa or accent chair and combine it with a decorative end table. This look will blend a little better with a connected living space while still offering enough storage and utility to keep the entryway clean.
For more tips on taming an entryway or mudroom, read the full article here.
HomeThangs.com is not only a home improvement superstore, it also provides expert design tips and a comprehensive shopping guide, taking the ideas from professional interior designers, and offering tips to the consumers on how to pick the products to best suit their needs.