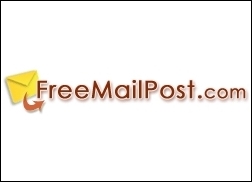 Why envelopes? They do not get thrown away like paper flyers, email spam, mail spam, or newspaper ads. In fact they are circulated to other people
Los Angeles, CA (PRWEB) July 10, 2007
Introducing FreeMailPost.com, the next wave in mailing and a fresh marketing idea. Register to receive free postage paid mailing envelopes, which allow anyone in the US to send postal mail free of charge. Advertisers reach clients both through the post and though op-in email advertising.
The genius of the concept is the simple way it brings together an item everyone uses and two popular marketing methods together using a simple truth. FreeMailPost.com is equivalent to getting mailing supplies for free, the effort supported by two types of advertising. Ads are printed on the back of the envelope. In exchange for totally free mailings, users simply agree to receive email advertising messages once a week.
FreeMailPost.com is revolutionary. Because of the way postage is paid for and funded by advertisers and augmented by email advertising, mailers have agreed to receive direct advertising messages that they know are targeted to end user's declared interests and lifestyles. It's this unique way of audience selection that enables mailings to be free and provides mailers with messages about the products and services they really want. At the same time, using FreeMailPost.com's cutting edge email advertising means marketers can enhance their message using cutting edge methods.
The idea is simple and it's rooted in age old marketing wisdom.
"Brand recognition and retention is greater when said brand is providing an unrelated but needed service to the consumer, making their life easier and saving them money at the same time," said Arize Nwosu, founder of FreeMailPost.com
The ads that are printed on the back of regulation envelopes, allowing senders to post mail through the USPS for free. Because FreeMailPost.com is committed to making sure all their stock is used, they regret they must limit senders to five mailings a week. However, as the idea takes off, this number will surely change.
Envelopes are the medium of choice because they posses significant advantages over other paper-based means of marketing. "Why envelopes? They do not get thrown away like paper flyers, email spam, mail spam, or newspaper ads. In fact they are circulated to other people," said Nwosu. Paired with email advertising, FreeMailPost.com presents end users and advertisers with an unbeatable combination.
Each envelope will be seen by multiple people. With every step in the delivery process, different eyes will view the ads. In fact, once posted, each one has an audience of at least seven, including the mailer, the local USPS carrier, the local USPS facility sorter(s), the destination USPS facility sorter(s), the destination USPS carrier and the mail recipient. FreeMailPost.com provides an excellent multiplier on the advertiser's initial investment.
This service can be used by small businesses looking to cut mailing costs, non-profit organizations sending mass mail to its members and contributors, and individuals looking to save time and money by avoiding unnecessary trips to the Post Office and the long waits. Anyone who has sent mail in the past is a potential benefactor of this free service. And anyone who needs to use print based and email marketing to reach a mass audience will find that FreeMailPost.com meets all their needs.
About FreeMailPost.com™
FreeMailPost.com™ is a division of European based Third Eye Entertainment, founded in 1997. Third Eye Entertainment is a media and entertainment company dealing with media properties mainly in Europe and Africa.
Contact
Riz Benjmain - Director of public relations
FreeMailPost.com™
(562) 688 - 9558
Info @ FreeMailPost.com
http://www.FreeMailPost.com
For more information about FreeMailPost, please visit http://www.FreeMailPost.com or email us at Info @ FreeMailPost.com
###