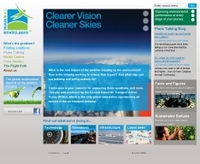 a long-overdue industry-wide response to the aviation environment topic
Geneva, Switzerland (PRWEB) February 11, 2009
The cross-industry aviation and environment web resource enviro.aero has won the award for Best New Aviation Website at the Flightglobal "Webbies" 2008.
Enviro.aero was launched with the purpose of providing clear information on the many projects and cutting-edge innovations that make up the aviation industry's response to climate change. The judges praised enviro.aero for providing "a long-overdue industry-wide response to the aviation environment topic" and a "clear user interface that allows quick access to interesting information."
The site focuses on new technologies, innovative operational and infrastructure projects and the exciting world of sustainable aviation biofuels that is currently gathering pace.
Haldane Dodd, Head of Communications for the Air Transport Action Group (ATAG), the aviation industry coordination organisation that set up the site says, "There has been a lot of bad information given recently about flying's climate change impact by anti-aviation groups. This website addresses aviation's contribution to climate change - which stands at around 2% of manmade CO2 emissions - but then goes on to explain the huge array of projects and steps the industry is taking to reduce carbon emissions. It provides case studies and news on the latest innovations occurring across the aviation sector."
"In less than two years, we have united 113 industry organisations in support of an environment commitment, including the associations representing international airlines, air navigation services and airports, and the major aircraft and engine manufacturers. There is an increasing need for our industry to effectively communicate all the significant green improvements being made and we are thrilled that the Flightglobal Webbies judges have recognised that we are on track with that task."
The website was re-launched in September 2008 with more interactive features, such as the Flight Path, the Plane Talking blog, Google maps and links to various social networking sites including Facebook and Twitter.
###