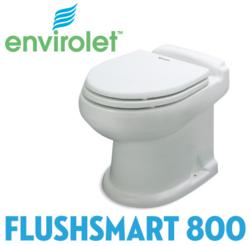 This new conventional-looking design truly brings Envirolet composting toilet systems to the mainstream.
(PRWEB) April 19, 2012
Just in time for Earth Day, Sancor introduces the all-new Envirolet FlushSmart 800 Series composting toilet system. FlushSmart 800 models feature a great-looking, large ceramic bowl.
The new FlushSmart 800 System was introduced at the recent Spring Cottage Life Show in Toronto and received a very positive reception from consumers.
The system is designed to appeal to those looking for the same "conventional toilet" style they are used to. The attractive ceramic toilet in the bathroom is all that the user sees with the composting system tucked safely away in an outside box or shed or in the basement. Out of sight, out of mind.
"This new conventional-looking design truly brings Envirolet composting toilet systems to the mainstream," says actor and respected environmentalist, Ed Begley, Jr.
What separates the Envirolet FlushSmart 800 from a conventional toilet is that it uses only 0.2L (6oz) of water per flush and converts waste to compost using an advanced Automatic Six-Way Aeration process and natural microbe-action.
The new FlushSmart 800 is part of the unique Envirolet FlushSmart Series that offers many advantages over other composting toilets including its ease of installation, styling and performance.
In 2009, the Envirolet FlushSmart was listed as one of the "25 Products That Just Might Change The World" in Bloomberg BusinessWeek.
The Envirolet FlushSmart Series is superior to other composting toilets on the market because it does not require a gravity connection for installation, i.e., the toilet does not have to be above the composting unit. It can flush as far as 70 feet away horizontally and 12 feet up (vertical) using a powerful vacuum processor unit. Up to three toilets can be connected.
Operation is the same as any toilet, although single-ply toilet tissue is recommended. Once or twice a year, the user will easily remove a small amount of finished compost from the system completing the process. Systems are clean, sanitary and odor-free.
Envirolet systems, also available in waterless models, are used in various applications including homes, cottages, cabins, work shops, garages, basements, pool cabanas, commercial applications and almost anywhere else that requires an economical and environmental sanitation solution. Available in AC electric, 12VDC and non-electric (off-the-grid) and single or double tank configurations to handle capacity requirements.
Is this a new concept? Not at all. Envirolet turned 35 this year, having been first manufactured in North America in 1977. Envirolet continues to be made in the USA and Canada. Browse hundreds of customer testimonials and see in-the-field installation photos on Envirolet Buzz.
"Envirolet Composting Toilets are saving the planet one toilet at a time, and have been for over 30 years. With Envirolet, you can conserve valuable water by flushing with little or no water at all. Save money compared to alternatives like septic that can cost thousands. Envirolet is the premium choice in composting toilet systems available today with the longest warranty, more installation options and superior features." - Ed Begley, Jr., Actor and Environmentalist
# # #
About Sancor Industries Ltd.
Headquartered in Oshawa, Ontario, Sancor Industries Ltd. is a leading manufacturer and marketer of advanced environmental composting toilet systems under the brands Envirolet and Santerra Green. Envirolet has been sold factory direct to consumers worldwide since 1977. Santerra Green is sold through select retailers and dealers in the United States and Canada. Sancor continues to manufacture in North America and offers the longest warranty in the composting toilet industry. The newly introduced FlushSmart Series has revolutionized the industry by changing the perception of what a composting toilet looks like. For more information, visit http://envirolet.com or http://santerragreen.com. Follow Envirolet on Twitter for the latest.
See Envirolet at Two Upcoming Shows & Meet Ed Begley, Jr.
Envirolet is sponsoring and will be on display at the Mother Earth News Fairs this year. Spokesperson Ed Begley, Jr. will be at both shows on the Saturday of both events for a meet & greet in the Envirolet booth and will be speaking on the show main stage and signing books. More event info.

Mother Earth News Fair: Puyallup, WA (June 2-3, 2012)
Mother Earth News Fair: Seven Springs, PA (September 21-23, 2012)