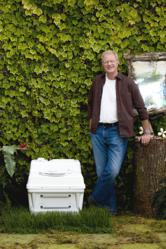 There is already existing toilet technology that is environment-friendly and economical available on the market.
Oshawa, Ontario (PRWEB) July 20, 2011
Nearly 40% of the world population lacking proper sanitation.
A new initiative has been launched by the Bill & Melinda Gates Foundation to help end this by bringing clean, safe sanitation to those in need.
The foundation is investing $42 million in the in the overall effort in hopes of assisting the fight to help the estimated 2.6 billion people worldwide in need of proper sanitation.
Part of the foundation investment is in the "Re-Inventing The Toilet Challenge." The challenge is "to reinvent the toilet as a stand-alone unit without piped-in water, a sewer connection, or outside electricity..."
Sancor Industries Ltd., a leading manufacturer of Envirolet composting toilets, applauds the efforts and attention that the Gates Foundation is giving the worldwide sanitation crisis and hopes to participate in the efforts.
Sancor would like to point out that this is something they have been doing for over 30 years with their existing technology of waterless, non-electric, stand-alone composting toilet systems. Systems that provide a safe, clean sanitation solution at site that is both environment-friendly and economical.
"We hope we can help with the effort." said Scott Smith, Vice President of Marketing at Sancor Industries Ltd. "We have existing technology that could be used in-the-field right now."
Respected and well-known actor and environmentalist Ed Begley, Jr. re-iterated this. "There is already existing toilet technology that is environment-friendly and economical available on the market," said Begley. "Envirolet composting toilet systems provide a clean, safe and easily implemented sanitation solution to those in need without the use of water or power."
Sancor's Envirolet brand waterless composting toilets have been manufactured in Canada since 1977. Sancor began selling Santerra Green™ brand systems to dealers and retailers in 2008.
Envirolet® and Santerra Green™ waterless all-in-one non-electric systems and waterless
"remote" non-electric systems both operate without power using a wind turbine ventilator. Daily operation costs are minimal as local additives can be used to accelerate the composting process.
Both Envirolet® and Santerra Green™ systems have more features than competing composting toilets, such as a patented Automatic Six-Way Aeration™, which speeds up the composting and evaporation process through forced air, heat and natural microbe action. The waterless product line comes in non-electric as well as 12VDC battery with solar and AC electric models. Low water (only 0.2L or 0.5L per flush) options, including the advanced and modern FlushSmart VF Series are also available.
Popular applications of the Sancor product line include homes, cottages, cabins, work shops, basements, garages, pool cabanas or any location where sanitation is required with or without power or water. Systems are environment-friendly and economical compared to other options including traditional plumbing and septic tank systems.
Sancor Industries Ltd. partnered with Ed Begley, Jr. in 2010. Begley helps promote both the Envirolet® and Santerra Green™ composting toilet systems as an economical and environment-friendly alternative to traditional sanitation systems.
"Sancor's composting toilets are the best I've seen on the market today," said Begley. "I firmly believe in both the products and feel that composting toilets are a tangible way to help reduce your impact on the environment by transforming waste into usable compost."
As a leader of the green movement, Begley has a long history of initiating change and serving in several major roles including chairman of the Environmental Media Association and the Santa Monica Mountains Conservancy. He is also involved in other environmental groups such as Friends of the Earth and Tree People. Because of his strong involvement and dedication, he has won a number of awards from several prestigious environmental groups including the California League of Conservation Voters and the Natural Resources Defense Council, among others.
Begley doesn't just promote green living and technology, he actually lives it. He currently resides in a self-sufficient home powered by solar energy just outside of Los Angeles.
About Sancor Industries Ltd.:
Headquartered in Oshawa, Ontario, Sancor Industries Ltd. is a leading manufacturer and marketer of advanced environmental composting toilet systems under the brands Envirolet and Santerra Green. Envirolet has been sold factory direct to consumers worldwide since 1977 and Santerra Green is sold through select retailers and dealers in the United States and Canada. Sancor continues to manufacture product in North America and offers the longest warranty in the composting toilet industry. In 2009, Envirolet FlushSmart VF models were selected for the "25 Products That Might Just Change The World" by Bloomberg Businessweek and revolutionized the industry by changing the perception of what a composting toilet looks like. For more information, visit Envirolet.com or SanterraGreen.com.
# # #