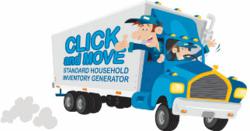 President of ClickandMove, Don Kachur, is proud to say the consumer award winning application he developed is making efforts in reducing the moving industries carbon footprint
(PRWEB) June 19, 2013
Historically, moving companies have not been known to be environmentally friendly. Over time, the moving industry has become more environmentally conscious, with some companies being adamant on green practices. ClickandMove.com is an online quote application which encourages customers to "think green."
Moving is a great opportunity to get rid of old and unused items. Having a yard sale, donating to local charities, and posting items in an online free marketplace are all ways to reduce the amount of items that need to be moved ClickandMove's online application assists customers in creating an online inventory of goods they wish to be moved. During this process, customers can start to identify necessities, and remove unwanted items accumulated over the years.
The moving process requires copious amounts of boxes and packing supplies. Contacting your local grocery store, liquor retailers, and hardware stores is a good way to obtain cardboard boxes that would otherwise be discarded. Another alternative to seeking out old cardboard boxes, is enlisting in a service that provides reusable containers. ClickandMove is in partnership with FROGBOX, a company who provides eco-friendly plastic moving boxes and moving supplies. FROGBOX reduces the amount of cardboard boxes needed in the moving process; therefore, reducing environmental waste.
When selecting your mover, take into consideration the distance of the company from your residence. Choosing a mover who is situated closer to your residence, results in less emissions being produced. After completing your online inventory, ClickandMove directs customers to the nearest American Moving & Storage Association ( AMSA ) moving company. This feature encourages customers to choose the nearest AMSA member; therefore, fewer emissions are emitted in the moving process, and customers are saving money for travel time.
President of ClickandMove, Don Kachur, is proud to say the consumer award winning application he developed is making efforts in reducing the moving industries carbon footprint. Because ClickandMove generates an online inventory, there is no need for multiple moving companies to come to your home to quote your move. Consequently, fewer emissions are emitted. After completing your online inventory of the goods you wish to move, the AMSA members bid to get your business. With ClickandMove, the consumer is provided with a platform to make their move more economical and environmentally friendly.