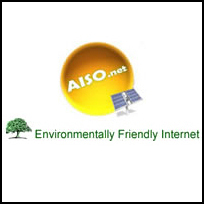 We can run the Live Earth Web site on IBM BladeCenter and get great performance without having the power draw we would have had with rack servers.
Romoland, CA (PRWEB) July 12, 2007
AISO.Net, the World's first and only solar-powered hosting company, today announced that it was selected by Live Earth producers to host the liveearth.org and liveearthpledge.org web sites. As the leading environmentally friendly Web hosting company, AISO.Net custom designed a dedicated, reliable solution to power Live Earth's Web site using energy efficient IBM (NYSE: IBM) BladeCenter servers with Second-Generation AMD Opteron™ processors (NYSE: AMD).
Live Earth is a 24-hour, 7-continent concert series that occurred on July 7, 2007 to combat climate change. The Live Earth partnership enabled AISO to join Live Earth in inspiring people worldwide to take simple steps to lead a more environmentally friendly lifestyle.
"AISO is proud to support Live Earth, a groundbreaking event to support a vital cause. We are doing everything we can do to be totally responsible and being the industry leader in environmental Web hosting," says Phil Nail, technology manager for AISO.Net. "We are very excited about Live Earth choosing AISO to host their Web site, showing the world that AISO.Net truly cares about our environment."
Live Earth has recognized that AISO is the only truly green Web hosting company and 100 percent solar powered data center that does not use green energy credits, proving their commitment to be the best, most reliable eco-friendly hosting company in the world.
Live Earth's Web site is served from IBM BladeCenter servers with AMD Opteron processors. Blade computers - which integrate servers, storage, networking and applications into one system - offer a design point that helps reduce the proliferation of server "farms," large IT staffs to manage them and wasted energy resources. Today, companies like AISO.Net benefit from reduced power, cooling, and management costs by deploying the industry's leading blade servers from IBM.*
"AISO.Net chose IBM and AMD over the other major vendors because of success with IBM's hardware, the open and highly-available design of BladeCenter and excellent customer service," continues Nail. "We can run the Live Earth Web site on IBM BladeCenter and get great performance without having the power draw we would have had with rack servers."
To better support the goals of Live Earth as well as its own company, AISO.Net is making additional green enhancements to its data center. AISO is installing new carpeting made from recycled content, replacing all of its Compact Fluorescent Light Bulbs with LED lighting, repainted the building using only LEED certified paint and installing an underground grey water tank that will provide for outdoor landscaping.
"Our technology partnership with IBM and collaboration with customers like AISO.Net is helping AMD honor our commitment to lead the world to energy-efficient processing," said Larry Vertal, senior strategist, AMD. "The industry-leading performance-per-watt capabilities of the AMD Opteron processor running the energy-efficient IBM BladeCenter servers will help enable AISO.Net to efficiently power Live Earth's Web site while minimizing their own power and cooling requirements."
Live Earth's bandwidth with AISO was partially sponsored by SpamCurb, a privately owned Mail Service Provider (MSP) based in San Diego, California offering fully managed email service, protecting organizations of any size from spam, scams, virus, and phishes; Endangered Species Chocolate, a chocolate company who's chocolate is made from ethically traded, shade grown cocoa grown on small, family-owned farms that support the habitats and communities in which they exist; and Yogi Times, magazines that are dedicated to inform, entertain, connect and inspire our readers with lively coverage of healthy, holistic lifestyle based on centuries-old yogic principles coupled with a modern urban style. AISO would also like to thank AMD and IBM for providing the servers and processors for serving up Live Earths' web site.
About AISO.Net - http://www.aiso.net
AISO.Net has been a trusted name in environmentally friendly Web hosting since 1997, providing a level of service that is unmatched in the industry. All network and server hardware is fully redundant with 24x7-automated systems monitoring to ensure the highest possible uptime. Using solar panels to power its data center and network, AISO.Net is the first and only 100% completely solar powered Web hosting company. Customers as far away as Kenya, East Africa rely on the service and reliability offered by AISO.Net.
About Live Earth - http://www.liveearth.org ; http://www.liveearthpledge.org
Live Earth is a monumental music event that brought together people on July 7, 2007 to combat the climate crisis. Live Earth staged official concerts in New York, London, Sydney, Tokyo, Shanghai, Rio de Janeiro, Johannesburg and Hamburg, and featured a mix of both legendary music acts like The Police, Genesis, Bon Jovi and Madonna with the latest headliners like Kanye West, Kelly Clarkson, Black Eyed Peas, Jack Johnson and more. Live Earth's 24 hours of music across seven continents delivered a worldwide call to action and the solutions necessary to answer that call. Live Earth marks the beginning of a multi-year campaign to drive individuals, corporations and governments to take action to solve the climate crisis. Live Earth is partnering with the Alliance for Climate Protection, The Climate Group, Stop Climate Chaos and other international organizations in this ongoing effort. Live Earth was founded by Kevin Wall, the CEO of Control Room, the company producing the events globally, and is supported by former U.S. Vice President Al Gore.
About IBM - http://www.ibm.com
For more information about IBM BladeCenter, please visit: http://www.ibm.com/bladecenter.
About AMD - http://www.amd.com
Advanced Micro Devices (NYSE: AMD) is a leading global provider of innovative processing solutions in the computing, graphics and consumer electronics markets. AMD is dedicated to driving open innovation, choice and industry growth by delivering superior customer-centric solutions that empower consumers and businesses worldwide.
*According to IDC, IBM led the year in blades with 40 percent of blade revenue share for 2006 (IDC's Worldwide Quarterly Server Tracker, 4Q06, issued on February 26, 2007).
AMD, the AMD arrow logo, and AMD Opteron are trademarks of Advanced Micro Devices, Inc.
###