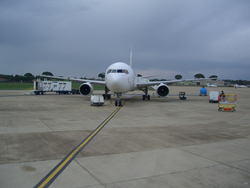 Salt Lake City, UT (Vocus) March 9, 2010
Hydro Engineering Inc. of Salt Lake City, Utah, USA is known worldwide for designing and building aircraft washing systems. Their equipment has washed everything in the air from B-2 bombers for the US Air Force to Boeing 747's for its commercial customers. So, when Boeing needed to supply an environmentally friendly and totally portable aircraft washing system, they called Hydro Engineering Inc.
After an extensive development project Hydro Engineering Inc. designed, manufactured, tested, ETL certified to UL and CE standards, delivered and commissioned its "Green" wash rack system. Hydro Engineering Inc. completed both maintenance and operational training to Boeing and Italian Air Force contractors on their new Hydrosite green wash rack. This completely portable wash rack system recycles 100% of the wash water collected from the aircraft washing process. The Hydroblaster Aircraft Washing System is truly a "Green" designed system.
This green wash rack project was done as part of Boeings KC-767 aircraft refuelers program supplied to the Italian Air Force.
The Italian Air force at Aeroporto Militare Mario De Bernardi, in Proezia, Italy, required the aircraft washing to be performed outside on the airport ramp. All equipment would have to roll out to the temporary wash site where it would be fully deployed in just minutes. After washing, the Hydrosite portable wash rack would then be packed up for storage awaiting the next wash cycle. The first training wash on a Boeing 767 was all that could be expected and more. A total of 8 people washed the entire aircraft in less than 7 hours. This was done with 4 people applying cleaning solution (soap) while 4 people manned the wash/rinse hot water Hydroblasters. The first of it's kind Hydrosite wash rack has now been turned over to Boeing for operational use.
We want to thank Boeing for being so well prepared for the equipment commissioning.
# # #