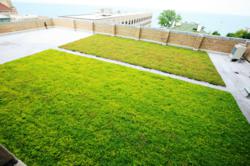 LiveRoof's horticulturally refined design creates a naturally functioning ecosystem on the rooftop
Chicago and Spring Lake, MI (PRWEB) April 11, 2012
In an ongoing effort to promote sustainability by reducing the volume and velocity of stormwater runoff, Loyola University Chicago is installing a green roof on Cuneo Hall, a new academic building. The 2,400-square-foot installation is Loyola's seventh green roof.
"A green roof acts like a natural sponge that absorbs stormwater and curtails runoff," said Aaron Durnbaugh, director of sustainability, Loyola University. "With the location of our Chicago campus right on Lake Michigan, reducing runoff is a priority for protecting water quality."
The LiveRoof® Hybrid Green System from LiveRoof, LLC (Spring Lake, Mich.) was selected for the project. LiveRoof was previously used for the 7,650-square foot green roof installed on the Mundelein College building, a historical landmark on the Loyola University Chicago campus, during a 2009 renovation project. LiveRoof was also installed in June 2011for the 5,400-square-foot green roof atop the new Norville Center for Intercollegiate Athletics.
"On the day of installation, LiveRoof modules are already abundantly vegetated with regionally adapted, full-grown plants that are mature, flourishing, and ready for the rigors of the rooftop environment," said Dave MacKenzie, horticulturalist and president, LiveRoof, LLC.
LiveRoof is designed to establish soil-to-soil contact between and above modules so that plant roots are free to grow from one module to the next. The integration across modules maximizes the cohesiveness of the soil and plant roots. Water, nutrients and beneficial organisms are shared between modules. This horticulturally refined design creates a naturally functioning ecosystem, which optimizes plant health, long-term green roof sustainability, and green roof benefits.
About Loyola University Chicago
Founded in 1870, Loyola University Chicago is the nation's largest Jesuit, Catholic university, with more than 16,000 students. Nearly 10,000 undergraduates hailing from all 50 states and 82 countries call Loyola home. The University has four campuses: three in the greater Chicago area and one in Rome, Italy, as well as a presence in Beijing and an academic center in Saigon-Ho Chi Minh City, Vietnam. The University's 10 schools and colleges include arts and sciences, business administration, communication, continuing and professional studies, education, graduate studies, law, medicine, nursing, and social work. Consistently ranked a top national university by U.S. News & World Report, Loyola is also among a select group of universities recognized for community service and engagement by prestigious national organizations like the Carnegie Foundation and the Corporation for National and Community Service. To learn more about Loyola, visit LUC.edu, "like" us at Facebook.com/LoyolaChicago, or follow us on Twitter via @LoyolaChicago.
About LiveRoof®
The LiveRoof® Hybrid Green Roof System (http://www.liveroof.com) is the industry's most refined horticultural solution. LiveRoof modules establish a healthy, sustainable ecosystem on the rooftop to maximize membrane protection, energy savings, environmental benefits, and rooftop aesthetics. Licensed regional growers customize plant selection for every LiveRoof project, and they deliver the modules abundantly vegetated with regionally adapted, locally cultivated plants that are full-grown, thriving, and ready for the rigors of the rooftop. LiveRoof is simple to install. When installed, LiveRoof is an instant green roof, already flourishing for immediate success and years of trouble-free maintenance. LiveRoof's natural function and natural beauty offer the highest level of green roof performance at the lowest level of total ownership costs. The proof is on the roof — showcased in over 600 LiveRoof installations that total more than two million square feet.
###