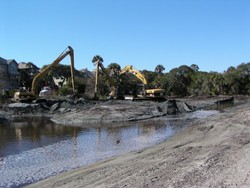 The project was put out to bid in October 2007, and the successful bidder was Retention Pond Services of Wilmington, North Carolina. Their level of expertise in quality wetland remediation made them a viable resource for this job.
Wilmington, NC (PRWEB) July 7, 2008
Retention Pond Services, Inc., an environmentally savvy stormwater management company, recently completed an extensive pond renovation project on Kiawah Island, in South Carolina. In coordination with the Kiawah Island Community Association's (KICA) Lakes Management Department, Retention Pond Services removed more than 270,000 cubic feet of dirt and sediment from the pond on Turtle Beach Lane, improving its aesthetics and functionality.
"This 2.7-acre pond was one of only several ponds on Kiawah Island maintained at a different water level than the rest of the 115 pond system. It was isolated and had no regular source of water," said Norm Shea, Director of KICA's Lake Management Department, who manages the association's 115 ponds. "The Turtle Beach pond has proven to be quite demanding over the last 10 years. We relied on rainfall to fill this pond so if we didn't have sufficient rain, we had to set up a large transfer pump to fill it from another pond. This was noisy and time consuming. The renovation project deepened it enough that it could be tied in to the rest of the system, providing it now with a consistent source of water."
The shallow Turtle Beach pond was created in the late 1980s when a swamp willow dominated wetland was cleared. By 1991, aquatic vegetation completely dominated the pond from top to bottom. Several costly herbicide treatments were required to remove this vegetative growth and then fish were stocked to keep the vegetation in check. The pond was maintained in this state with supplemental stockings of tilapia and grass carp for nearly 10 years. A prolonged drought in 2000 along with an overgrowth of duckweed in the summer of 2003 resulted in a loss of nearly all the fish.
In 2004, consideration was given to dredge the pond to provide more depth and tie it in with the rest of the pond system. A survey was commissioned to establish the boundary lines resulting in the pond being classified as a jurisdictional wetland with the Army Corps of Engineers. This classification required permit approval from the Corps and South Carolina's Office of Coastal Resource Management (OCRM) in 2005.
Shea remarks, "The project was put out to bid in October 2007, and the successful bidder was Retention Pond Services of Wilmington, North Carolina. Their level of expertise in quality wetland remediation made them a viable resource for this job."
Retention Pond Services began work in January of 2008, starting with draining water from the pond and clearing vegetation from the pond's edge. A Caterpillar 305 amphibious excavator cut the relief ditch to facilitate the draining. The pond was then stacked out and roughly graded. A pair of Caterpillar 324 super long reach excavators performed the majority of the sedimentation and dirt removal to increase the depth and water volume. The project took 24 workings days and doubled the capacity of the pond, improving water quality and enhancing the biological diversity.
"We enjoyed working with Mr. Shea and his staff on this unique project. Kiawah Island has done an excellent job of maintaining their unique ecosystems. We are proud that we were part of the restoration team," said Glen Garrett, President of Retention Pond Services.
About Kiawah Island:
Kiawah Island is a private residential resort community located just south of Charleston, South Carolina on the Atlantic Ocean. It is a 10,000-acre barrier island, 1.5 miles at its widest point, with over 10 miles of beachfront. Approximately 4,000 properties within 13 neighborhood villages and 28 regime associations make up the island. The island's original developer established the Kiawah Island Community Association (KICA) to govern and manage the business and property that contributes to the overall ambience and property values of Kiawah Island. KICA maintains roads, lakes, landscaping, leisure trails and other infrastructures on the island.
About Retention Pond Services:
Retention Pond Services, Inc. is an all-inclusive stormwater management company well-equipped to manage all facets involved with the maintenance and remediation of stormwater BMP systems. These government-regulated BMPs are essential in the filtration of stormwater flowing from developed areas into streams and rivers, as they prevent harmful pollutants from destroying healthy water supplies. The Retention Pond Services' staff is comprised of highly trained, certified, and knowledgeable stormwater specialists that understand federal, state, and local compliance regulations as well as the severe environmental repercussions of poorly maintained stormwater systems. Based in Wilmington, NC, Retention Pond Services, Inc. operates in eleven states. Current projects include pond renovations at golf courses, coastal dredging and beach restoration, and comprehensive stormwater maintenance and consulting for nearly 1,000 retail, commercial, and industrial properties. For more information, visit http://www.retentionponds.com.
###