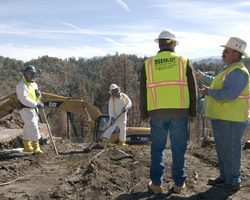 Our first priority is to protect the residents and keep the groundwater and lake free from contamination
San Bernardino County, Calif. (PRWEB) March 3, 2008
Santa Ana-based Sukut Construction, one of California's leading environmental cleanup firms, has put its team to work to demolish and remove the debris left by 517 destroyed homes in the Lake Arrowhead region. As agreed in the $19.6 contract with the County of San Bernardino, Sukut Construction will provide environmental cleanup of four impacted neighborhoods: Grass Valley/Crab Flats; Running Springs; Green Valley Lake; and the Fredalba/Smiley Park area.
Sukut Construction, an environmentally-friendly company with a fleet equipped with clean-air engine technology, was chosen for this project in part for its experience with the California Integrated Waste Management Board (CIWMB) in cleaning up after the recent Angora fire in Lake Tahoe. Sukut has also worked with CIWMB in the remediation of more than 60 illegal dump sites in California, and the nation's longest-burning tire fire, a mountain of seven million tires in Tracy, Calif. The company is currently winding down its environmental response to the 2007 San Diego wildfires.
The Santa Ana-based company has sought several subcontractors from within the region to assist with the clean up.
"Our first priority is to protect the residents and keep the groundwater and lake free from contamination," said Dave Grattan, president of Sukut's environmental division. "This is why every member of the Sukut team working on this job is hazmat trained."
To safeguard its residents and the environment, rather than leave the cleanup to individual property owners, San Bernardino County chose to coordinate the work on a regional basis under a model developed by the CIWMB, Sukut, and other contractors following the devastating 2007 fire in Lake Tahoe. It was decided that a coordinated model would result in a quicker, safer and more environmentally sound outcome.
The Sukut team will lead the way in tackling tons of molten debris, car and appliance carcasses, and dangerously unstable chimneys. Making this job even more dangerous than most Southern California environmental cleanup Sukut has worked on is its location. The team will work on steep hillsides that can only be reached by way of narrow roads and numerous hairpin turns. The company estimates the time for each individual home site cleanup at two to three days, which is a result of the challenges faced by the mountainous terrain.
Sukut has already moved crews and heavy equipment into the devastated neighborhoods. It anticipates hauling 120 to 150 truckloads of debris per day to a landfill, after recyclables and hazardous waste have been separated. The job is expected to be complete in 40 to 60 working days, weather and recent heavy snowfall permitting.
Sukut Construction was founded 40 years ago. The company has since attained a high ranking within the top 250 largest contractors in the nation. Its services include: environmental cleanup; land development and mass grading, for which it is ranked #1 in California; water treatment and infrastructure construction; landfill construction; emergency landslide repairs and ground stabilization; flood and storm water structures; and golf courses and resorts. Sukut Construction is headquartered in Santa Ana, California, with offices in Oceanside, Los Angeles, and Riverside, California. More information on Sukut may be obtained at http://www.sukut.com or by calling Sukut headquarters at (888)-SUKUT01 or (888) 785-8801.
###