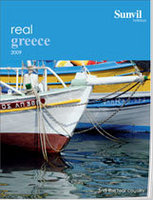 Travelwhere is a map based web travel directory and portal offering tour operators and their customers a green online brochure distribution service
Shalden, Hampshire (PRWEB) February 3, 2009
In the travel industry there is a growing appetite to reduce the production of printed holiday brochures, thereby stopping the colossal waste of paper and radically cutting down the transport miles for delivery. Travelwhere - re-launched this month - is a newly-upgraded map-based holiday planner featuring page-turning e-brochures. The web site has been developed to address exactly these pressing environmental issues.
"Travelwhere is a map based web travel directory and portal offering tour operators and their customers a green online brochure distribution service," says Ian Champness, the founder and MD of Travelwhere. "This service is reducing their costs, and has a role to play to benefit the environment."
"With an industry average of around 20 brochures to convert into 1 booking, that's a lot of paper and distribution. We are saving travel companies a fortune in print, postage and fulfilment costs" adds Champness. "At the same time we are also able to satisfy the continued appetite of holidaymakers for brochure-based holiday research"
The recently upgraded website travelwhere.co.uk brings together online brochure promotion, presentation and distribution into one performance based affiliate marketing and media service. It does this through 2 "core" online channels - BrochureMaps and BrochureRack.
BrochureMaps technology finds brochures via a click on the chosen destination on a map, which then display every brochure appropriate to that city or regional destination. Travelwhere's BrochureRack search system - which searches Travelwhere's extensive database of digitised brochure content - finds brochures based on country, region, holiday activity and accommodation style.
Champness claims the attraction to site visitors is one of a one-stop travel portal that aggregates travel brochures by holiday and accommodation types, destination countries and regions. This ensures that brochures are instantly available online for direct viewing, page by page. From here, customers can then easily navigate onwards to the selected tour operator's reservation facility.
Champness is encouraging every tour operator to take up his offer to convert their brochures in a range of initiatives in the coming months - including an offer of free participation in the Travelwhere BrochureRack facility - so the travel industry can show the world it is doing something tangible to support a greener environment, not just talking about it.
Contact:
Press Desk
Travelwhere Ltd
Shalden
Hampshire
###