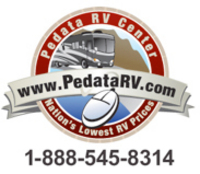 The more demand there is for environmentally friendly alternatives, the more we aim to deliver
Mesa, AZ (Vocus) May 4, 2009
Pedata RV offers options for creating a 'greener' RV experience through solar panels, sustainable materials and more.
From solar panels to sustainable and renewable resources for interior furnishings, owning an RV can be an environmentally friendly experience. As technology advances, options become more affordable. However, even small changes can add to the overall RV travel experience.
RV Solar Panel Electric Power Kits recharge batteries during daylight hours. Installing photovoltaic panels offers a clean quiet alternative to generators and can sustain an RV in any climate without having to plug into power outlets or run a generator. Maintenance consists of cleaning the solar panels. Solar panels are mounted on the roof of the RV. Eighteen percent of RV owners currently use solar panels. Wind turbines can be installed to help generate electricity as well.
Decorating with sustainable materials is another way to bring down environmental impact. Bamboo, hemp and organic cotton are all renewable resources. Bamboo grows at a rate of two inches per hour and thrives in a variety of climates. Bamboo material is silky soft and is microbial. Hemp, while a slightly rougher material is more durable than cotton. Organic cotton is grown with beneficial insects and hand picking, eliminating the need for pesticides and insecticides.
New RVs for sale in California are being outfitted with wood products that have low formaldehyde levels. Engines can be converted to use bio-diesel instead of diesel fuel. Replacing regular light bulbs with LED lights reduces electrical consumption. Non toxic paint helps protect the environment and living spaces. "The more demand there is for environmentally friendly alternatives, the more we aim to deliver," says Clint Ethington of Pedata RV.
For More Information:
For more information on Pedata RV Center or current trends in the RV industry contact Clint Ethington, General Manager, at clint (at) pedatarvcenter (dot) com or by phone at: 1-888-545-8314 or 520-807-0900. Or visit Pedata RV Center online at http://www.pedatarvcenter.com.
Contact: Clint Ethington
Company: Pedata RV Center
http://www.PedataRV.com
Phone: 1-888-545-8314 or 520-807-0900
Email: clint (at) pedatarvcenter (dot) com
# # #