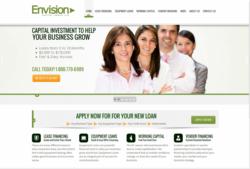 (PRWEB) January 08, 2013
Today Envision Capital Group, the #1 equipment leasing company in the nation, announced the launch of a new company website: envisioncapitalgroup.com.
"We wanted an authentic, information filled website that reflects how experienced & knowledgeable we are in the finance industry, and gives everyone a resource where they can learn about financing and leasing." Says new marketing director Shona Barnthouse. "We have also spread our wings to include daily updates, special offers, news, and tips on all social media outlets."
The website has extensive coverage on Lease financing, working capital loans, equipment loans, vendor financing, and their tax advantages. Envision Capital will also be keeping their followers well informed by posting the latest industry news, and sending a monthly newsletter. The site also features recent testimonials from a list of happy clients, and a quick and easy form to request more information from one of our experienced representatives.
As Envision Capital Group kicks off the first quarter, clients can expect to see a running list of all recently funded transactions through Envision Capital, a helpful loan calculator to get an estimate on your financing needs, and a new video channel discussing an array of topics in the equipment finance industry as well as helpful tips & solutions for business owners.
Envision Capital Group was founded to help companies obtain the equipment needed to grow their business through customized solutions by providing access to flexible financing and leasing options. Envision Capital Group prides itself on servicing all business types, all equipment types, all credit types, nationwide.