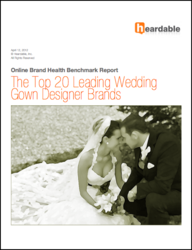 Enzoani is the only wedding gown designer to deploy live chat -- a key market differentiator.
Temecula, CA (PRWEB) April 16, 2012
Heardable, the standard for measuring online brand performance, recognizes Enzoani (http://enzoani.com) as the most effective bridal gown designer/manufacturer brand online. Enzoani's superior performance is highlighted in Heardable's latest benchmark report titled, "The Top 20 Leading Wedding Gown Designer Brands Online."
Enzoani outscored brands such as Alfred Angelo, Monique Lhuillier and Badgley Mischka to secure the top position, which was calculated by a thorough examination of online shopping sites and 700+ data variables per brand.
Enzoani's brand health score of 651 out of 1,000 possible points beat its nearest competitor, Pronovias, by 106 points, or 16.28%, and surpassed third place JLM Couture by 115 points, or 17.67%. The gap between Enzoani and lowest-ranked Casablanca Bridal was 579 points, or 88.94%.
Top 10 Wedding Gown Designer Brands Online (rank ordered)
1. Enzoani
2. Pronovias
3. JLM Couture
4. Mori Lee
5. Jovani
6. Mon Cheri Bridal
7. Alfred Angelo
8. Justin Alexander
9. Vera Wang
10. Allure Bridals
The results were somewhat surprising because Enzoani is an up-in-coming bridal brand that doesn't yet have the same number of retail outlets or advertising support as some of the more established wedding gown designer brands.
What is Enzoani doing right? Several things:
1) website usability
2) breadth of social media participation
3) content syndication
Enzoani recently embarked on an ambitious strategy to become a leader in the bridal industry by making their mark in digital media. They completely overhauled their main website, enzoani.com, to improve the online experience. They implemented new features such as live chat to make it easier for both their B2B and B2C customers to interact and transact with them. They were the only bridal brand provided in this report to offer live chat -- a key market differentiator.
Enzoani also embedded data feeds from services such as YouTube and Tumblr into their website to add interactive content into their website experience.
As far as social media, Enzoani's marketing leaders realized it would be challenging to try and convince a large number of new customers to visit them at enzoani.com so they did the next best thing -- they went to where their customers already were. Enzoani registered on popular social networks for women such as Facebook, Twitter and Pinterest. They hired a social media marketer to help them focus on this emerging channel. And they engaged their audience with authentic, rich, vibrant and authentic dialog while syndicating original content across the web. The results, so far, are impressive.

Branded presence on 11 social networks
113% growth in Facebook likes (50 new likes per day)
157% growth in Twitter followers
92% positive brand sentiment on Twitter
112% growth in video views on YouTube
56% increase in their 'sociable subscore' on Heardable
"Enzoani is really pushing the envelope to better serve its customers and that effort is now being recognized with their first place finish in our latest report," said John Sharp, co-founder and CTO of Heardable, Inc. "Case in point, Enzoani is the only wedding gown designer to deploy live chat -- an online engagement tool that's been proven to increase sales, satisfaction and brand loyalty. Hats off to Enzoani's marketing team for taking smart risks to gain market share."
"We're honored to be recognized for our online marketing efforts," said Justin Nguyen, VP of Marketing for Enzoani. "We're a small player in a highly competitive market so we strive for excellence in everything we do. Our social media, web development and creative teams have done great work -- from publishing Pinterest content to embedding video to improving our website design and usability. It's a thousand little things that make all the difference."
Brands featured in the full report include:
Alfred Angelo, Allure Bridals, Amsale Aberra, Anne Barge, Badgley Mischka, Carolina Herrera, Casablanca Bridal, Enzoani, JLM Couture, Jovani, Justin Alexander, Maggie Sottero, Mon Cheri Bridals, Monique Lhuillier, Mori Lee, Paloma Blanca, Pronovias, Reem Acra, Rosa Clara, Vera Wang.
Details about the report, "The Top 20 Leading Wedding Gown Designer Brands," including a free PDF excerpt, can be found at:
http://heardable-reports.myshopify.com/products/the-top-20-leading-wedding-gown-designer-brands
About Heardable
Heardable is the standard for measuring online brand performance. Heardable answers the question, "What would you like to know about your brand today?" Heardable customers leverage contextual analytics and trend data to make smarter, faster business decisions. 15 million brands x 700+ data variables x 1000's of customizable reports. Heardable's big data repository can be utilized by any business looking for ways to optimize their online performance, boost brand awareness, and increase revenue. Heardable, Inc. is a privately held company based in Southern California. http://heardable.com
For more information about Heardable, please contact:
Jon Samsel, CEO - Heardable, Inc.
T: 888-520-0034 office, E: samsel(at)heardable(dot)com