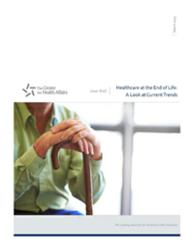 Cleveland, OH (PRWEB) April 04, 2013
The Center's March 2013 issue brief, Healthcare at the End of Life: A Look at Current Trends, takes a look at EOL healthcare trends, including the use of palliative and hospice care, advance directives and other tools that help patients put end-of-life wishes to paper. With National Healthcare Decisions Day approaching on April 16, this publication is intended to provide a starting place for the difficult but important conversation about end-of-life care. Thanks to the evolution of our understanding about the needs of patients at the end of life, there are more options than ever available to ease the discomfort of patients and the sorrow of loved ones for terminally ill individuals.
Visit The Center's website for links to end-of-life healthcare resources mentioned in this issue brief on EOL healthcare trends, including:

Conversations that Light the Way (Midwest Care Alliance)
Choices: Living Well at the End of Life (Midwest Care Alliance)
Caring Connections
The Conversation Project
Put it in Writing Resources (American Hospital Association)
For more information on this issue brief on EOL healthcare trends, contact Deanna Moore at 216.255.3614 or dmoore(at)chanet(dot)org.
The Center for Health Affairs is the leading advocate for Northeast Ohio hospitals, serving those organizations and others through a variety of advocacy and business management services. The Center also works to inform the public about issues that affect the delivery of health care. Formed by a visionary group of hospital leaders 96 years ago, The Center continues to operate on the principle that by working together hospitals can ensure the availability and accessibility of health care services.