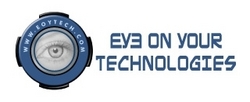 This year has been busy and we at Eye On Your Technologies have worked diligently to expand our offerings to encompass more technologies and services. Hence the name change to emphasize our broad spectrum of experience and expertise
Lanham, MD (PRWEB) August 11, 2009
After five years of providing the highest quality security and communications services available, Eye On You Security, Inc. has expanded its service offerings and is now Eye On Your Technologies, Inc. The name change and expansion of services comes upon the recognition that new and growing markets require ever more sophisticated technological solutions. Visit the new Eye On Your Technologies online at the company's new Web site, http://www.eoytech.com.
"Eye On Your Technologies exists to provide the best technology has to offer and to focus on the future of technological innovation. Our top-notch service and innovation is still intact, but we now offer even more comprehensive and versatile solutions to meet all technology, network, data management, and data and voice communications needs," says Soheil Nazari, founder and CEO of Eye On Your Technologies.
Eye On Your Technologies is a high-tech company that has evolved from a security company providing stand-alone surveillance units along with alarm and video monitoring, to a world class security, networking, and software solutions provider. Eye On Your Technologies specializes in state-of-the-art data and voice communication networks; high-end security hardware and software; real-time data monitoring and surveillance solutions; and project management and installation services.
"This year has been busy and we at Eye On Your Technologies have worked diligently to expand our offerings to encompass more technologies and services. Hence the name change to emphasize our broad spectrum of experience and expertise," Nazari says. "As a technologies company, Eye On Your Technologies is able to manage more diverse applications."
The name change is just the latest action in the company's busy year. In January, the company was awarded the security, low voltage and technology package for Gergori School in Modesto, CA. The following month, the company was awarded the low voltage Master Agreement contract for Taylor Morrison's subdivisions in Northern California. The Master Agreement provides for all low voltage services in new Taylor Morrison subdivisions. Following that, in March the company was awarded a contract to provide low voltage services to Sun Lake Construction for their Northern California division.
For more information about Eye On Your Technologies or to learn more about the company's comprehensive and versatile technological solutions, visit http://www.eoytech.com.
###