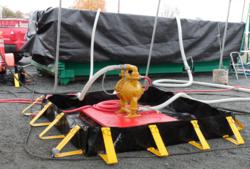 "We have been customers of AIRE Industrial for several years. The products are top quality, and their customer service is excellent too. When we have needed product in a hurry, or a custom item they have been able to do it on time and on budget.
Meridian, Idaho (PRWEB) January 16, 2013
AIRE Industrial, a worldwide spill containment provider has published an updated catalog stocked with new and inventive supplies for the prevention and containment of spills. Environmental compliance and OSHA oversight are ongoing concerns and need frequently monitoring. Statues and bulletins can mean changes in regulations, which affect storage, handling and transport of chemicals and fluids. Each new rule might and often does change containment requirements, forcing a different safety need. These updates translate into making prevention of spills the goal, and containment the afterthought.
Yet, even in the safest environments, spills and leaks occur. Man made and nature made accidents happen. Good planning is the key to spill abatement, and that is why partnering with a spill containment provider can save fines and prevent catastrophic spills before they take place. Environmental compliance is more than just the clean up after an accident, the objective of compliance is active avoidance of accidents. It takes careful consideration and consultation with experts who have years of experience specializing in spill containment and prevention. Spill berms manufacturer, AIRE Industrial, carries a full line of supplies for meeting the requirements and staying a step ahead. The company has a trained and dedicated sales staff, not just a customer service department.
Each product in the AIRE Industrial catalog has been evaluated, tested and chosen based on rigorous standards. Years of research, development and testing go into an offering before it is rolled out for use. Trustworthiness is crucial when it comes to spill containment. Every client must be sure a solution is reliable and can last throughout its useful life. Obsolescence should not be the name of the game in prevention or containment. Companies need to count on their spill containment provider in addition to the equipment they provide.
Finding a complete line of spill prevention supplies in one place can be a difficult and frustrating hunt. Having to shop in multiple places and keeping track of what was bought where used to be a logistical headache. Now, with a one-stop spill containment store, the ease of keeping track of inventory and use is simple. AIRE Industrial' s new catalog and inventory system gives the client complete control of their containment program along with a compliance partner. As a manufacturer and distributor selling directly to the public, AIRE provides technical expertise far above the average spill containment retailer. Customizations are always welcomed and engineering is involved in every step of the process. This is why environmental compliance is simpler with the help of AIRE Industrial; customers' unique compliance requirements can have a personalized solution made exclusively for them. Partnering with a manufacturer gives clients options not available with even the largest distributor. Rules are hard enough, finding solutions should be the easy part.
For more information about environmental compliance solutions, contact Aire Industrial, 2021 E Wilson Ln, Meridian, Id 83642, 1-800-247-3846 or visit http://www.aireindustrial.net where information, photos and containment products can be found.
About AIRE Industrial:
Located in Meridian, ID, AIRE Industrial has combined its technical knowledge and manufacturing expertise of flexible textiles to provide containment products and spill prevention solutions for government agencies, military, agriculture, environmental containment, and the wild land fire suppression industries.