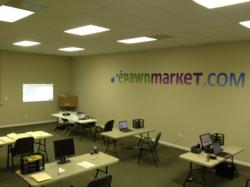 Our Number One Goal Is To Constantly Improve Our Customer Experience
Atlanta, Georgia (PRWEB) May 29, 2012
ePawnMarket.com, one of the World's largest online pawn shops is excited to announce that the interior makeover of their processing center has just been completed. "Since the inception of our online pawn process our number one goal has been to constantly improve our processes and facilities so our customer experience is second to none," said Andy M. Anderson, Director of Processing and Logistics at ePawnMarket.
"The online pawn shop processing center was initially designed to house both our processing center and our secure facility. However, due to our rapid growth we have had to expand our vault, our customer service center, our shipping center, and our evaluations department," says Daniel A. Delnoce, Director of Sales and Marketing.
With the expansion ePawnMarket will be able to service more customers while lowering overhead, which is a win-win for their customers and their shareholders. "Our goal is to continue offering a product that our customers want and need while at the same time making a modest margin for our efforts," stated Anderson. " Even with the outlay of funds to renovate our facility we still continue to offer the lowest pawn loan rates and the most flexible repayment terms in the world for our customers items of value."
With the renovation also came an upgrade to the world-class security system that was already in place. With an additional eight state-of-the-art cameras being installed on premises, customer valuables have less privacy than contestants on Big Brother or Glass House which is what our customers need and deserve. In a twist of fate, the local Sheriff Department also added a precinct within 200 yards of the vault as well. "We couldn't have been more fortunate," said Delnoce. "Not only are they right next door to protect our customer's valuable assets but we also have the ability to work closely with them to make sure that our online pawn shop does its best never to receive stolen goods."
With this renovation and security upgrade there is no safer place a customer looking for a short term pawn loan could send their treasured valuable or asset.
About ePawnMarket.com
ePawnMarket is one of the world's largest online pawn shops and an industry leader in asset lending that offers secured pawn loans using luxury items of value that you already own as collateral that can be shipped via Federal Express. Utilizing luxury watches, jewelry, handbags, gold, silver, precious metals, collectibles, and digital SLR cameras as collateral you can obtain fast cash safely and discretely from the comfort of your own home. ePawnMarket.com offers free shipping and insurance on all items you buy, pawn, or sell. By offering our "best deal guarantee" customers can rest assured they will receive the ability to obtain fast cash without credit checks or the hassle of cumbersome paperwork due to bad credit. Can't ship your item? That's no problem! We have partnered with hundreds of local pawn shops around the country to offer you fair and honest rates and terms that benefit both the consumer and local pawnbroker.