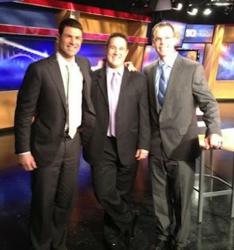 "Joining us now are a couple of E Pawn Stars themselves, two partners in the Georgia based ePawnMarket.com," said Ben Hoover of WIS TV Channel 10. Ben went on to say, "You do have competition, but you are one of the top online pawn shops around."
Columbia, SC (PRWEB) March 22, 2012
Co-founding executives Andy M. Anderson and Daniel A. Delnoce of ePawnMarket, one of the world's largest online pawn shops, were recently asked to be on air as industry experts and consumer advocates in online pawn for WIS TV Channel 10's public affairs show "Newswatch" with Ben Hoover in Columbia, South Carolina. During the segment Andy and Dan discussed the advantages of online pawn, how pawning online works and the benefits customers who have bad credit or no credit receive when they pawn or sell their items of value for fast cash and short term loans.
"I was honored to be on-air as a representative and industry expert of both online pawn shops and the consumers in which they serve," said Delnoce. "Our goal is to be at the forefront of online pawn by nurturing this growing industry and by offering customers fair rates and terms that benefit our customers first and our shareholders second. We also feel compelled to help local small business pawn brokers grow by referring to them customers that they could better serve because the items those customers are looking to pawn can't be shipped via Federal Express."
Anderson also agrees, "We believe by being consumer advocates and putting our customers first and fostering an environment where we can work together with local brick and mortar pawnshops to help those in need of fast cash and short-term loans, we will be able to continue our rapid growth as one of the world's largest online pawn shops."
Since the airing of this segment highlighting ePawnMarket and its positive impact on online pawn, co-founder Andy M. Anderson has been quoted in numerous newspaper articles across the country including a recent article in the Modesto Bee titled "Online Pawnshops Start To Click With Customers." This article discusses the pros and cons of pawning online, the effect it may have on brick and mortar pawnshops, and how ePawnMarket and Groupon backed Pawngo are forging the way in this new industry.
For more information, or to watch the WIS TV Channel 10 "Newswatch" segment, please visit http://www.ePawnMarket.com.
About ePawnMarket.com
ePawnMarket is one of the world's largest online pawn shops that offers secured pawn loans using luxury items of value that you already own as collateral that can be shipped via Federal Express. Utilizing luxury watches, jewelry, handbags, gold, silver, precious metals, collectibles, and digital SLR cameras as collateral you can obtain fast cash safely and discretely from the comfort of your own home. ePawnMarket.com offers free shipping and insurance on all items you buy, pawn, or sell. By offering our "best deal guarantee" customers can rest assured they will receive the ability to obtain fast cash without credit checks or the hassle of cumbersome paperwork due to bad credit. Can't ship your item? That's no problem! We have partnered with hundreds of local pawn shops around the country to offer you fair and honest rates and terms that benefit both the consumer and local pawnbroker.