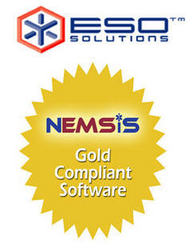 This is the first time that the Broselow-Luten system has been available to prehospital responders in electronic form, allowing EMTs and paramedics to literally have at their fingertips critical information on equipment size, treatment protocols and drug dosages customized for each pediatric patient, accessible directly within the ePCR system they use on every call
Austin, Texas (PRWEB) June 10, 2008
ESO Solutions, Inc. announced today that it will incorporate the Broselow-Luten Pediatric Error Prevention System™ into its electronic patient care reporting (ePCR) software, the ESO Pro™ Suite. This proven emergency pediatric care reference system will help medics using ESO Pro™ reduce medical errors in high-stress situations involving children by allowing them to quickly and easily access color-coded tools designed to guide them in their therapeutic decision making.
"This is the first time that the Broselow-Luten system has been available to prehospital responders in electronic form, allowing EMTs and paramedics to literally have at their fingertips critical information on equipment size, treatment protocols and drug dosages customized for each pediatric patient, accessible directly within the ePCR system they use on every call," said John Dadey, president and CEO of ESO Solutions.
"The partnership represents the only arrangement of its kind between Vital Signs, the licensor of the system, and a prehospital software provider," Dadey continued.
The system is based on the widely respected work of two pioneering physicians, James Broselow and Robert Luten, who recognized the need for a pediatric patient safety system that would allow emergency care providers to provide fast, quality care for acutely ill or injured children. Working together, the physicians first developed the Broselow tape, a color-coded tape designed to correspond children's length to their average weights and printed with pre-calculated doses of often-used emergency medicines; and subsequently, the Broselow-Luten system.
With the Broselow-Luten system, the color assigned to a particular child determines the correct medication dosage in milligrams that the child should receive. It also helps providers translate orders into volumetric equivalents and calculate dosage by drug concentration, freeing them to focus on more important factors of care during an emergency such as securing the airway and maintaining circulation. All of this information will be available electronically at the patient's side to medics using ESO Pro™.
Dr. James Broselow stated, "The Broselow-Luten system has gained good momentum in the hospital market and is now poised to be a key component of pre-hospital electronic patient care reporting (ePCR) software. ESO's decision to develop and incorporate the Broselow Luten Pediatric Error Prevention System module into the ESO Pro™ Suite of software demonstrates that our mutual goals of improving pre-hospital pediatric care are perfectly aligned."
This unique partnership represents one of many advances being made in the ongoing development of the ESO Pro™ Suite of software, others of which include a robust quality management module, extensive ad hoc reporting functionality, and more. Dadey concluded, "This software enhancement demonstrates our ongoing commitment to provide our customers the tools they need to continue the advancement of prehospital emergency care."
About ESO Solutions, Inc.
ESO Solutions is a Software as a Service (SaaS) company dedicated to providing innovative technology to emergency services nationwide. ESO's sole mission - that of providing EMS and Fire responders with the most clinically sophisticated software and billing services on the market - allows the company to fully focus its resources on developing comprehensive, creative solutions for collecting and reporting patient data more accurately and efficiently. ESO Solutions' fully-hosted, NEMSIS Gold-compliant solution results in easy implementation and lower cost of ownership. Its mobile software component, which interfaces with CAD and cardiac monitor devices, allows medics to import valuable data and document calls at the patient's side quickly, easily and completely. For more information, visit http://www.esosolutions.com.
About Vital Signs, Inc.
Vital Signs, Inc. and its subsidiaries design, manufacture and market primarily single-use medical products for the anesthesia, respiratory/critical care, interventional cardiology/radiology and sleep/ventilation markets, achieving the number one market share position in five of its major product categories. Vital Signs is ISO 9001 certified and has CE Mark approval for its products. All statements regarding Vital Signs and the Broselow-Luten System in this press release other than historical statements constitute Forward Looking Statements under the Private Securities Litigation Reform Act of 1995. Actual results could differ materially from such statements as a result of a variety of factors including factors referred to by Vital Signs in its Annual Report on Form 10-K for the year ended September 30, 2007.
The Broselow/Hinkle Pediatric Emergency System and the Broselow-Luten System are part of Vital Signs' product line of emergency medical products.
###