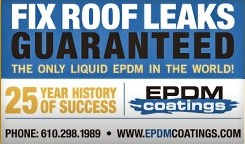 Fix Roof Leaks Is Now Easy With EPDM Coatings, EPDM Coatings Suppliers of Liquid EPDM rubber announces a laboratory tested solution to tar.
(PRWEB) February 12, 2013
EPDM Coatings, a national supplier of the only liquid EPDM rubber in the world is pleased to offer for the first time the ability to use Liquid EPDM Rubber for tar and asphalt based substrates. For year their customers have used Liquid EPDM Rubber with outstanding success on metal, fiberglass, brick and membrane roofs. The issue has always been the compatibility with the Liquid EPDM Rubber on tar or asphalt based substrates. Over the years both EPDM coatings and its roofing contractor clients have lost business due to this lost opportunity. Today, EPDM Coatings is able to offer a solution to these roof types through the assistance of the manufacturer. With the addition of a laboratory tested primer, Proflex which is a flexible epoxy primer can put down on any tar or asphalt based substrate and provides an acceptable foundation to apply the Liquid EPDM Rubber.
Mario Lozowski from Top Level Roofing, a long-time customer of EPDM coatings states "this will significantly impact the growth of their business and ours. Over the years we have been more than satisfied with the outcome of our jobs using Liquid EPDM Rubber. We also know over the years we have wanted to use the product on many mod-bit roofs but instead of losing the job altogether we had to go to a lower lever product. Now with this announcement it gives me the satisfaction of quoting all my jobs with Liquid EPDM Rubber." ProFlex is now available online at EPDM Coatings LLC. Contractors who have questions are asked to contact the sales department directly at 610-298-1989 extension 2.
EPDM Coatings is a private Corporation, headquartered in Shelton CT. Providing specialty roof coatings; over the years they have attracted a significant customer base with Liquid EPDM Rubber along with Liquid Roof, suitable for RV, trailers and mobile homes. In addition their offerings include a high volume solid silicone product and various high volume solid roofing products. EPDM Coatings provides specialty roof coatings around the globe. Liquid EPDM rubber is the only liquid epdm rubber in the world. With over a 25 year history of success it has been the choice of thousands of customers. EPDM Coatings are registered trademarks of EPDM Coatings 494 Bridgeport Ave Suite 101-342 Shelton CT 06484
They have won various awards throughout the years and have been written in many of the trade journals. Visit their site at EpdmCoatings.com or their facebook page https://www.facebook.com/liquidepdm