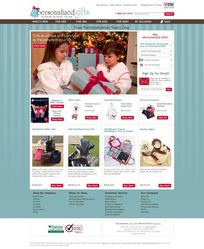 People are looking for unique gifts they can customize, gifts that express their love and create a lasting memory
Greensboro, NC (Vocus) December 17, 2009
Looking for unusual, meaningful gifts that won't break the bank this holiday season? ePersonalized Gifts, a new catalog and internet business of communications powerhouse Pace Communications, is offering hundreds of products that can make shopping a breeze.
"People are looking for unique gifts they can customize, gifts that express their love and create a lasting memory," said Cindy Marshall, president of Pace eCommerce, a subsidiary of Pace Communications. "They want to make sure what they spend is meaningful."
The new company sells products you won't find in mass retail stores. The gift assortment—for women, men, children, and babies—has a boutique feel, and includes many products designed in-house, plus other items exclusive to ePersonalized Gifts. Marshall is confident the new business will flourish because of its fun, chic, and unique products—and three other factors.
"First, we have great price points," she said. "Second, everything—even a personalized item—is unconditionally guaranteed. And finally, only with us, customers can personalize nearly everything we offer for absolutely free."
Need a gift for your sun-loving friend? How about a hot pink terrycloth lounge chair cover, embroidered with her initials, with a hood so it won't blow off at the beach. Or, for the man who has everything, a combination USB flash and keychain, engraved with his monogram. Your overactive nephew might calm down with a carry-anywhere doodle kit with his name on it, complete with crayons, pad, chalk and chalkboard. Your little sweetheart surely deserves her own towel set and fluffy hooded robe embroidered with her name and pink hearts. And who could resist hospital scrubs for that infant McCutey, with embroidered name above the little pocket?
Offering personalized gifts seemed a natural for the company that produces Exclusively Weddings, a catalog and website offering personalized items to brides and grooms since 1992. As an industry leader in the wedding business, the company knows what sells when emotions are involved. Also, its office and warehouse in Greensboro, N.C., includes departments for embroidery, engraving, hot stamping and a print shop, so items can be personalized on site and sent within days.
"We have helped nearly a million brides create the wedding of their dreams, but we had nothing to offer them after the wedding," Marshall noted. "We have the expertise in-house, so it seemed logical to offer equally exciting personalized items for family, friends, and newborns. And we really wanted to offer people new ways of giving in time for the holiday season."
The new line is available at epersonalizedgifts.com. For more information about the product or the company, please contact Linh Calhoun.
###