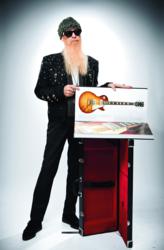 THE GUITAR COLLECTION is the single most sumptuous source of guitar glamour to have ever been conceived. It's an overwhelming compendium, so dazzling in its scope that you might have to lie down after paging through it." --Billy Gibbons, ZZ Top
Seattle, Washington (PRWEB) November 18, 2011
Epic Ink - a new publisher of high-end, limited collector's edition books - bursts onto the publishing scene with THE GUITAR COLLECTION, a deluxe, larger-than-life book featuring 150 of the most elite guitars of all time.
Years in the making and featuring high-definition, state-of-the-art original photography throughout, THE GUITAR COLLECTION is half music documentary and half photographic odyssey.
"THE GUITAR COLLECTION is, without a doubt, the most beautiful and visually engrossing guitar exposé I've ever seen," says Slash, former lead guitarist for Guns N' Roses, whose Les Paul Standard Copy was selected and photographed for this epic tome. "For guitar lovers, it is the Sistine Chapel of its ilk and almost as big."
The result of years of discussion, debate, and deliberation, and reflecting the vast spectrum of perspectives of its authors and advisory board, THE GUITAR COLLECTION (Epic Ink, November 2011, $1,500 limited edition) is a celebration of 150 truly remarkable guitars from the publisher that produced the New York Times bestselling The Bob Dylan Scrapbook. Showcasing the most culturally important, historically significant, and visually stunning guitars ever made, this package is a unique collector's limited edition that is a fitting tribute to these instruments from the world's most exclusive public and private collections.
Presented in a custom-made leather guitar-style case, THE GUITAR COLLECTION comprises several extraordinary elements:
At the heart of the package is THE GUITAR COLLECTION: An Elite Gathering of 150 Exceptional Guitars. Weighing in at over 20 pounds, this volume spotlights the guitars in all their glory. Written by Walter Carter, it boasts the combined knowledge of the world's preeminent guitar specialists and places each guitar in its historical and cultural context. State-of-the art original photographs by three of our foremost guitar photographers—Greg Morgan, John Peden, and Marco Prozzo— accompany the authoritative text, revealing the unparalleled craftsmanship, form and function, and time-worn qualities that develop after years of use.
Supplementing this volume, THE GUITAR COLLECTION: Stories by Art Thompson, Michael Molenda, and Alan di Perna provides a wealth of tidbits, manufacturer's information, and entertaining behind-the-scenes anecdotes about each of the featured guitars to satisfy even the most ardent fan.
A special feature of each of the three limited collector's editions of THE GUITAR COLLECTION is a full-color, museum-quality print of one of three guitars from the collection, signed by noted photographer John Peden. (Each 24" wide x 12" tall.)
Eric Clapton's "Blackie" is in here, as is Buddy Holly's Gibson J-45 with its hand-tooled cover, and iconic guitars played by the likes of Jimmy Page, Jeff Beck, Emmylou Harris, Stevie Ray Vaughan, and Kurt Cobain. THE GUITAR COLLECTION also features instruments that have played a pivotal role in the evolution of the guitar, including one of the earliest guitars made by Stradivarius in 1700 and the Martin D-458, considered to be among the Holy Grail of the acoustic world today.
Selected from over 1,500 candidates, each of these 150 priceless guitars is singularly significant.
With its meticulous attention to detail, superb production values, and impressive presentation, it's not surprising that Yoko Ono praises, "John [Lennon] would have been honored to have known that his guitar was included in THE GUITAR COLLECTION."
THE GUITAR COLLECTION, published by Epic Ink, is available to order online now, or to purchase at all John Varvatos stores, RonRobinson/Fred Segal in Los Angeles, and other fine stores.
***
THE GUITAR COLLECTION: An Elite Gathering of 150 Exceptional Guitars
By Walter Carter, with photographs by Greg Morgan, John Peden, and Marco Prozzo
➢ 512 pages
➢ More than 670 original full-color images
➢ Hand-numbered vellum title page
➢ Top-bound in a handcrafted leather case with embossed detail
➢ 23" wide by 11.25" tall (58.4 cm wide by 28.6 cm tall)
➢ 20.9 pounds (9.5 kg)
THE GUITAR COLLECTION: Stories
By Art Thompson, Michael Molenda, and Alan di Perna
➢ 192 pages
➢ More than 180 full-color images
➢ Bound in hardcover
➢ 8.25" wide by 11.25" tall (21 cm wide by 28.6 cm tall)
Both volumes come packaged in a custom-made, leather guitar-style case with one of three signed museum-quality prints. Only 1,500 hand-numbered English-language copies per edition will be available.
Double-neck '05 edition; ISBN 978-1-60380-169-0
Flat-top '43 edition; ISBN 978-1-60380-170-6
Solidbody '54 edition; ISBN 978-1-60380-171-3
Walter Carter is the former historian for Gibson Guitar Corporation and the author of 10 books on guitars, including Gibson Guitars: 100 Years of an American Icon and Gruhn's Guide to Vintage Guitars.
Walter Carter is available for interview by special request. Please contact Meg Parsont, Parsont Publicity Group, cell: 212.787.5704, email: mparsont(at)earthlink(dot)net to book an interview with the author or to request digital press materials for THE GUITAR COLLECTION.
ABOUT EPIC INK
Epic Ink is a new company from becker&mayer!—preeminent producer of innovative illustrated books for publishers worldwide. They have extensive experience collaborating on book projects with a wide range of major entertainment companies, high-profile estates, and personalities from the world of rock and roll. Epic Ink is located in Bellevue, Washington, and, along with Chronicle Books and SPIN Media, is a member of The McEvoy Group.
###