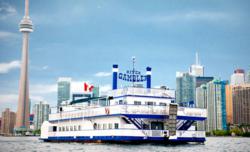 The corporate cruise represents a fun and creative way of marketing a company's brand or business to the public
Toronto, Ontario (PRWEB) June 27, 2013
With the start of the summer season and the end of a fiscal year for many businesses, the celebration of a company milestone or achievement is top of mind. Corporate Epic Cruises in Toronto Harbour are an ideal choice for companies that "do things differently" and encourage staff to be creative or "think outside the box". The most successful corporate functions engage staff and stakeholders, highlight the company's goodwill to the public and have potential to attract media. The corporate cruise represents a viable option for meeting these objectives and keeps staff onboard with company values and mission.
Epic Cruises, a provider of business event cruises in Toronto for over 30 years, offers a unique solution for marking a company's success. Being in the open air and on the water encourages a more relaxed atmosphere that is conducive to co-worker and stakeholder bonding, and team-building activities. Compare this to dark or soft lit banquet halls where co-workers tend to stick to their own cliques at tables or gather near the bar. The customer or stakeholder is often isolated in another part of the hall, disengaged and waiting for an appropriate time to leave.
A company milestone or achievement is also an opportunity to demonstrate goodwill to the public. Fundraisers are a great way to do this and taking them onboard offers a fresh and interesting angle for media to report on. Imagine motivating staff to "cruise to success" or cruise for the amount of dollars representing the number of years that the company has been in operation. While in Toronto Harbour, staff and/or stakeholders can exercise or compete in games that are in support of a cause or charity. This onboard initiative is in clear view of the public and easily accessible to journalists who need eye catching visuals to capture and tell a company's story.
"The corporate cruise represents a fun and creative way of marketing a company's brand or business to the public," says Daina Ming-Sun, Director of Sales & Marketing for Epic Cruises. Whether for a company's promotion to the public, the celebration of a company milestone or achievement, a public holiday or fundraiser, Epic Cruises gets people up and interacting in an open and relaxed atmosphere.
About Epic Cruises:
Epic Cruises is home to the River Gambler, specializing in corporate and social events in a unique venue – on the Toronto Harbour. With over 30 years experience hosting Toronto boat parties, staff are well trained to ensure events are epic!
For further information:
Epic Cruises
33 Mill St. Suite # 1903
Toronto, ON M5A 3R3
http://epiccruises.ca/
Phone: (416) 364-6999