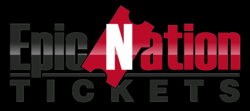 Epic Nation Tickets is now offering discounted tickets to all events in Las Vegas
Raleigh, NC (PRWEB) May 23, 2013
Las Vegas continues to be home of the best entertainment in the entire world. For years, Las Vegas has been host to some of the most famous artists, whether they be singers, dancers or comedians. Tickets to all events in Las Vegas continue to be in high demand and some of the hardest tickets to get. Epic Nation Tickets understands the difficulties of purchasing tickets to events in Las Vegas, so they are offering discounted tickets to all events.
Currently the hottest selling ticket in Las Vegas is Celine Dion. Only until September will be Celine Dion be performing at Caesar's Palace in Las Vegas. The only place to find discounted Celine Dion tickets will be Epic Nation Tickets. Epic Nation Tickets is also offering low priced tickets to Cirque Du Soleil, David Copperfield, Carrot Top, Blue Man Group and more.
Epic Nation Tickets is the best source for discount tickets to all concerts, sports, Broadway shows and Las Vegas acts.