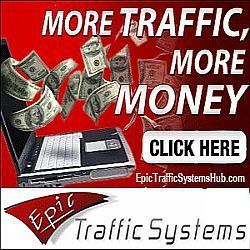 Drive Massive Amounts of Traffic Automatically...
(PRWEB) June 7, 2010
Epic Traffic Systems is the latest Online Traffic Generation system on the market in the internet marketing industry. It has been produced by three of the leading marketers in the industry, namely Keith Baxter, Jon Shugart, and Joey Smith.
Most people in the internet marketing world will have heard of Keith Baxter before. Many affiliates attended Keith's Traffic Domination Workshop back in March and had the opportunity to beta-test the autoblogging module of the Epic Traffic System.
Jon Shugart is well-known for his Keyword Rockstar software which automated a lot of the work involved in pay-per-click campaigns among other things. No doubt that experience will have been brought to bear when putting this new software together.
Finally, Joey Smith is an expert in the area of social media which is one of the three core modules of Epic Traffic Systems. His input into this system provides traffic automation methods for Facebook, Twitter, Social BookMarking, and YouTube, among others.
All in all, this new system promises to take traffic generation to a whole new level of automation. Firstly, they provide a blogging solution, a social media traffic solution, an SEO (Search Engine Optimisation) solution and other free traffic sources all on autopilot.
Their new system will also automate all the paid traffic sources and will include automated generation and management of pay-per-click (PPC) campaigns, automated generation and management of cost-per-view (CPV) campaigns, and automated media buying management to name just a few of its capabilities. There is also a solution for generating banner advertisements incorporated into this new system.
Epic Traffic Systems will not just be a software package but they are also providing full training for 8 weeks after purchase showing you every nook and cranny that their system offers as well as teaching you what all the different traffic generation strategies are and then implementing those strategies using their new system. As many people in the internet marketing industry will attest, this is probably just as important as having the system itself, as in truth, there are many people who have tried their hand at internet marketing and failed due to their lack of knowledge. There is a learning curve with IM as there is in any industry at the end of the day.
The guys at Epic Traffic Systems have a Pre-Notification list where you can get all the updates and first dibs on purchasing this new traffic generation system. The automation power of Epic Traffic Systems promises to be a real timesaver for online business people.
Get a full Epic Traffic Systems Review here to see in more depth what each module of this system can do for an online business.
# # #