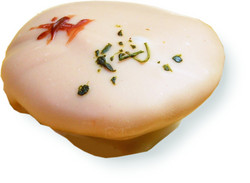 I am extremely pleased with these chocolates; Diane achieved the embodiment of my highest hopes
Cranford, NJ (PRWEB) September 30, 2008
Just when you thought that there was nothing new in the world of artisan chocolates, Chef Craig Shelton and Chocolatier Diane Pinder literally break-the-mold with their new line of hand-made epicurean chocolates, Gastronomie Chocolat.
"I envisioned six unique pieces, each perfectly balanced, and each one a dessert unto itself," Shelton said. "I wanted not only the finest ingredients used, but also very specific ingredients combined in a very exact way."
Shelton speaks of food in the precise terms that are informed by the palate of the gourmet chef that he is. Shelton has received two consecutive "Extraordinary" ratings from the New York Times, election to the prestigious Relais & Chateaux-Relais Gourmands association, and top honors from Zagat's, Gourmet Magazine, The James Beard Foundation, New Jersey Monthly, and Wine Spectator. These days Shelton spends much of his time working on new projects such as his own line of gourmet coffee sold under the Chef's Coffee Company brand.
"The missing ingredient in my vision for a new type of chocolate was a chocolatier who was not only highly skilled, but who also shared my attention to detail and an interest in exploration that would be required to bring my vision to life," Shelton explained. Shelton found that unique Chocolatier partner in Diane Pinder.
"I knew Chef Shelton by his reputation so I was intrigued when I was contacted about his idea for a new line of chocolates," Pinder said. "Right from our first meeting I knew that the chemistry between us was just perfect. We both take great pride in our work, we're both risk-takers, and we are both able to listen and learn." The working relationship between Shelton and Pinder has proven to be key in the success of their new line.
"As the Chef described his vision, I recognized the challenges that lay ahead," Pinder said. "Chef Shelton had a very clear idea of the experience that he wanted to create for our customers, but some of the ingredients that Chef wanted to use were either difficult to obtain or would make it complicated to achieve consistent results in the finished pieces that would be acceptable to both the Chef and myself."
One of the original ingredients considered by Shelton, for example, required "peau de lait" - made by boiling raw, unpasteurized milk and skimming the cream off the top. Raw milk, however, is banned in New Jersey where Pinder makes her chocolates. Pinder had to locate reliable sources for a host of other items such as true wasabi root rather than the commercial garnish familiar to sushi patrons. Over months of discussions, trial and error, and creative insight, the Chef and Chocolatier arrived at their Gastronomie Chocolat line of epicurean chocolates.
"I am extremely pleased with these chocolates; Diane achieved the embodiment of my highest hopes," Shelton said. "People will find the experience surprising and satisfying."
"I enjoyed the challenge of the process and working with Chef Shelton," Pinder added. "Gastronomie Chocolat is a departure from the traditional methods of artisan chocolate making and will certainly appeal to people who really enjoy fine chocolate and new food experiences. I'm looking forward to future collections in the Gastronomie Chocolat line."
The Gastronomie Chocolat collection is hand made to order with only the freshest ingredients and so they typically take 2 to 3 weeks to ship after orders are received. The Gastronomie Chocolat line is available only through Donna & Company Artisan Chocolates or Chef's Coffee Company.
About Donna & Company Artisan Chocolates:
Located in Cranford, NJ, Donna & Company Artisan Chocolates was founded in 2005 by Chocolatier, Diane Pinder. The firm manufactures two of its own brand of chocolates: CocoaBee Exceptional Chocolates and Donna Toscana Tuscan Style Chocolates. Donna & Company also operates the Donna Toscana Chocolate Lounge and produces specialty products including the Chef Craig Shelton Gastronomie Chocolat line of epicurean chocolates. Diane Pinder's chocolates have appeared on the NBC TODAY show, Style Network Whose Wedding is it Anyway?, and in numerous newspapers and magazines. For more information see http://www.shopdonna.com.
###