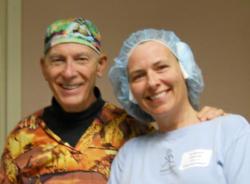 "Your eyes provide your most precious sense. That's why I care so deeply about your particular concerns. You should not be treated like a number! I give each person as much time as necessary to answer all your questions."
Hamden, CT (PRWEB) October 14, 2011
Because Liberty Vision is a community-based practice, Dr. Gold and his staff want to do their part by giving back to less fortunate people that need some assistance.
There is general awareness that currently a serious hunger problem exists in the US.
♦ The demands for Food Banks have tripled and yet the food supplies have dwindled.
♦ Among the hungry are 47 million children!!
♦ CNN reports that 1 out of 6 Americans is going hungry.
At the same time, The New York Times reports that less people are able to afford their insurance co-payments. They end up forfeiting their needed regular health care including Eye Exams
Thus to help Americans stay healthy, and to help the hungry, Dr. Jeffrey Gold and the staff of Liberty Vision are sponsoring a Food Drive that provides any and all a Comprehensive Eye Exam for only $39.00 (reg value $150) and every penny of the $39.00 will be donated to the Connecticut Food Bank!
The $39.00 can feed at least 2 families at the same time as helping to preserve and/or improve vision.
Call Liberty Vision at (203)281-5745 or click here to learn more about this event.
Hunger can be combated while at the same time helping Americans to get the eye care that they need.
Working together as a community, assistance can be given to help the less fortunate.
Note: Please help to spread this news through social media networks like Facebook, Twitter etc.
The more people who know about this event and help spread the news, the more needy families can receive help.
Dr. Jeffrey Gold is a board certified and award winning Ophthalmologist who has been changing the lives of patients for over 30 years. At his office, he performs a variety of custom and standard laser vision correction procedures including LASIK, PRK and Epi-LASIK (Advanced Surface Ablation). He has performed more than 10,000 LASIK procedures and over 1,000 PRK and Epi-LASIK procedures while receiving many awards for his work. Choosing a doctor as experienced and recognized as Dr. Gold is critical to your effort in getting the desired and needed treatments for your eyes.
Dr. Gold's Liberty Vision is the most sought after and premier laser vision correction center in the Hamden area. Patients who visit Liberty Vision are taken care of personally by Dr. Gold, who will conduct the screenings, pre-operative exams and all post-op exams. With his expertise, experience and help, patients can reduce or eliminate their dependence on glasses or contact lenses.
As the one time part owner of the country's second laser eye surgery center and being instrumental in developing the Yale Eye Laser Center, Dr. Gold has over 10,000 laser vision correction procedures under his belt. As a result, he has changed the lives of thousands of patients, including his own family members, other doctors and healthcare professionals.
###